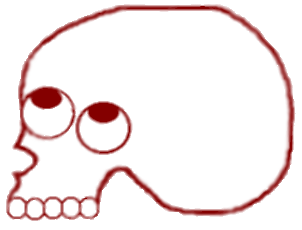 "Hamlet the Dane"
or
"And now for something completely...
rotten in the State of Denmark"
by
Louise Richardson
&copy 1988, 1991, 2001 by Louise Richardson
Of all my writings, I suppose "Hamlet the Dane" has been the most successful. Originally entitled "And Now For Something...Completely Rotten In The State of Denmark," we produced it film-style on videotape for Austin Community Televison (ACTV) public access television in 1988. Throughout the month of August 1991 the late great Capital City Playhouse gave it a full production on stage under the name of "Hamlet the Dane" as the winner of their new plays workshop, also in Austin, Texas. The following version is a culmination of my original final draft, elements added in stage and video versions, and my own recent revisions. - Louise Richardson, March 14, 2001
Dramatis Personae:
HAMLET, Prince of Denmark. Described by his uncle the king as "so depressing, so drearily down in the mouth, so maliciously melancholy." He aspires to the stage. However, as is often pointed out, "HAMLET's fatal flaw is that he can't act." Also, he has trouble following through on his main task of avenging his father's death. Never-the-less he takes pride in playing the droll fool to everyone around him. HAMLET is about 30.
CLAUDIUS, King of Denmark. CLAUDIUS is around 50 years old. He is described by his nephew, HAMLET, whom he persists in calling "son", as a "bloody windbag." He is not the only verbose one in the Court of Elsinore, but he is arguably the worst offender. CLAUDIUS is personable, bold and thoroughly ruthless. He would have felt at home in the 1980s.
GERTRUDE, Queen of Denmark. Fifty-ish or possibly in her late forties, GERTRUDE is still beautiful, if impetuous. She married her late husband's brother within weeks of her first husband's funeral, no doubt dallying amid the cold cuts at the memorial service as "the funeral-baked meats did coldly furnish forth the marriage tables".
POLONIUS, King's chancelor. He is the original "tedious old fool." His hobbies are giving trite advice and hiding behind the drapes. POLONIUS is just as loyal to the new king as he was to the old, and just as much a "pain in the arras" as always. He's about 60.
LAERTES, Polonius' son. Hot-headed LAERTES, who contrary to his father's advice, or because of it, is always ready to find "entrance to a quarrel." He is in his twenties and no one really expects him to get out of them.
OPHELIA, Polonius' daughter. OPHELIA is the young prince's girlfriend, whom he treats very shabbily during the play, however close they may have been during rehearsals. Her brother says to her when she can't hear him, "Too much of water hath thou..."And that diet didn't work any better then than it does now. She is about twenty.
HORATIO, Hamlet's friend. HORATIO is the sidekick of sidekicks, willing to get kicked in the side, if need be, for his prince. In the Kevin Kostner version of this show, he would be a friendly Moor who once saved Hamlet's life in a panty raid at Wittenberg University. He too is about thirty.
HAMLET, SR., a ghost. The late king, though somewhat earlier than Claudius, is a ghost of his former self. He has returned from the grave to "fast in fires" presumably dissatisfied with those cold cuts at his funeral, "until the foul crimes done in my days of nature are burnt and purged away," and while he's about he reveals to his son his "most unnatural murther" as well as the lisp he's acquired since his death.
ROSENCRANTZ and GUILDENSTERN, CORNELIUS and VOLTEMAND, EXTRANEOUS and SUPERFLUOUS Rosencrantz and Guildenstern themselves admit, "we're so sketchily drawn, nobody can even tell us apart." ROSENCRANTZ looks just like CORNELIUS and EXTRANEOUS, and GUILDENSTERN looks just like VOLTEMAND and SUPERFLUOUS, but they are all quite interchangeable, wearing identical clothing, the only real difference being the monograms on the medallions which hang from ribbons around their respective, if not respectable necks. They are about twenty-something each.
FRANCISCO, BERNARDO and MARCELLUS, castle guards. Why do we get the feeling the Danes will be speaking Norwegian soon? They are any ages you please.
Three PLAYERS, GOOD HUMOUR MAN, GRAVEDIGGER, two palace GUARDS, offstage VOICE These are all small but choice parts. There are no small parts, but if there were, these would be the ones.
SETTING: Elsinore Castle, Denmark
TIME: Twelth Century, Thursday
---
Act I, scene i. The battlements outside Elsinore Castle.

There are several overlapping levels leading to a high platform roughly in the center. There may be archways and doors here and there, the better for swash—buckling when the occasion calls for it. Just before dawn we hear a cock crow with the VOICE of a stage manager. On the high platform, a silhouetted figure paces to and fro. Lights come up on his face.

FRANCISCO

Oh, hello. I am Francisco, palace guard to the Great Dane...(Dog barks.) Not the dog, the King of Denmark. King Claudius fears the approach of Norway--not the land, itself--none of that continental drift nonsense--

VOICE

Get on with it!

FRANCISCO

Right. We are keeping watch for the Norwegian troops led by young Fortinbras, the prince of Norway; "we" of course, being my fellow guards and I. (We hear footsteps and the clink of armor. BERNARDO enters.) What ho there?

BERNARDO

No, not Ho, it is Bernardo, friend Francisco.

FRANCISCO

Approach, good Bernardo. (long pause)

BERNARDO

Go on.

FRANCISCO

Yes?

BERNARDO

Continue your monologue.

FRANCISCO

Right...uh...It has been two weeks or two months since Denmark passed on–-the King, not the country. I mean, this is a tragedy, but--

BERNARDO

Get on with it.

FRANCISCO

Right. We are here to unfold the terrible tragedy of Hamlet, Prince of Denmark.

BERNARDO

It isn't all that terrible.

FRANCISCO

Our tale is entitled, Monty Py– (BERNARDO cups his hand over FRANCISCO's mouth. FRANCISCO tries to speak, but his words are muffled.)

BERNARDO

Ow! You bit me!

FRANCISCO

Then don't cup your hand over my mouth.

BERNARDO

I was merely trying to prevent a lawsuit.

FRANCISCO

Why? Just because I said "Monty Py--"?

BERNARDO stops FRANCISCO's mouth by hand again, and again FRANCISCO bites him.

BERNARDO

Ow!

FRANCISCO

I warned you!

BERNARDO

Just be careful what you say.

FRANCISCO

Well, it's just like Monty...you know who, isn't it?

BERNARDO

We can't say that either.

FRANCISCO

It is similar.

BERNARDO

Can't say it.

FRANCISCO

Well, it is British.

BERNARDO

Not really.

FRANCISCO

We are British, aren't we?

BERNARDO

Not in the least.

FRANCISCO

Well...I am.

BERNARDO

No you're not. You're from Pflugerville [or insert local town with funny name], you are.

FRANCISCO
(after a pause)

Right. Very well then, the title of our endeavor is "Hamlet The Dane" or "And Now For Something Completely...Rotten In The State Of Denmark." (pause)

BERNARDO

Go on.

FRANCISCO

That's all I have to say here.

BERNARDO

Very well then. Shall we go?

FRANCISCO

This way, I think.

MARCELLUS and HORATIO enter.

MARCELLUS

Holla!

FRANCISCO

Hello, Marcellus. Practicing your Spanish?

MARCELLUS
(badly mispronouncing)

Holla, Bernardo como esta, yusted?

BERNARDO

That's dreadful!...Have you considered a career in broadcasting?

MARCELLUS

Er...What was my line?

BERNARDO
(whispering)

"Farewell, honest soldier..."

MARCELLUS

Farewell, honest soldier. Who hath relieved you?

FRANCISCO
(a bit defensive)

No one. I go to relieve myself.

HORATIO

I think he means, "Who is your replacement?"

FRANCISCO

Oh sorry, Lord Horatio. Bernardo here is my replacement. Now if you'll excuse me.

FRANCISCO scampers away

.

BERNARDO

Is Horatio there?

HORATIO

A piece of him.

There is a long pause during which we only hear the continuing sound of the wind and surf. The BERNARDO begins to hum aimlessly.

BERNARDO

Is it my line, then?

HORATIO
(woodenly)

Sorry..."So Bernardo, have you seen the ghost again?"

BERNARDO
(also woodenly)

"No, I have not seen the ghost again."

MARCELLUS

Horatio says it's just our fancy and he won't believe in it. I asked him to come along and see for himself if it comes again.

HORATIO

Tush, tush, 'twill not appear.

BERNARDO

I warrant it will, milord. List' to my tale, that you may believe...Last night of all, when yond same star that's westward from the pole--

MARCELLUS

Let me tell it. You always take too long to get to the point. You talk about Francisco going on and on, but you--

BERNARDO

It's my turn, isn't it? Right...When yond same star that's westward from the pole had made his course t'illume that part of heaven where now it burns, Marcellus and myself, the bell then beating one--

GHOST
(a low moan)

Ohhhhhhhhhhhhh!

MARCELLUS

Look, where it comes again!

BERNARDO

What, the ghost?

GHOST

Ohhhhhhhhhhhhhhh!

BERNARDO

Looks it not like the dead King?

MARCELLUS

Thou art a scholar. Speak to it, Horatio.

HORATIO

M-m-me?

BERNARDO

Looks it not like the King? Mark it, Horatio.

HORATIO

M-mark it? I'm not a b-bloody tailor. You mark it.

MARCELLUS

Speak to it, Horatio.

GHOST

Ohhhhhhhhhhhhhhh!

HORATIO

See here, ghost. Why do you traipse around here at all hours of the night dressed like the Great Dane? Speak! Speak!

Dog barks.

GHOST

Ohhhhhhhhhhhhhhhhhh!

MARCELLUS

It is offended.

BERNARDO

I shouldn't wonder.

GHOST
(fades into distance)

Ohhhhhhhhh!

HORATIO

Stay, spirit, speak, speak! I charge thee, speak!

Dog barks.

HORATIO

We've done that joke. Shall we move on? (pause) Thank you.

MARCELLUS

'Tis gone and will not answer.

HORATIO

At last.

BERNARDO

Is not this something more than fancy, Horatio? What think you on't?

HORATIO

We'll have to tell Prince Hamlet of this, won't we?

GHOST
(at a distance)

Ohhhhhhhhhh!

HORATIO

But soft, behold, lo, where it comes again, the very image of the Dane.

Dog barks.

HORATIO

I'm warning you!

VOICE

Sorry. How's this then? (crows)

HORATIO

Well, that's better.

GHOST
(at a distance and fading)

Ohhhhhh!

BERNARDO

It was about to speak when the cock crew.

HORATIO

Just as well. Come Marcellus.

HORATIO and MARCELLUS exit.

BERNARDO

Have a good evening then!...Sleep tight! Don't let the bed bugs bite!... Bloody cold air...bloody ghost...I'll just walk to and fro then, shall I?

Dog barks. Rooster crows. Cow moos, sheep bleats. Glass shatters. Fog horn blows.

BERNARDO

Bloody sound effects.
---
Act I, scene ii. Elsinore Castle, the Royal Court. King CLAUDIUS speaks. Ambassadors CORNELIUS and VOLTEMAND try to keep each other awake.

CLAUDIUS

Though yet of Hamlet our dear brother's death the memory be green, and that it is befitted...to bear our hearts in grief, and our whole kingdom to be contracted in one brow of woe,...yet so far hath discretion fought with nature that we with wisest sorrow think on together with remembrance of ourselves. Therefore our sometimes sister, now our Queen, the imperial jointress to this warlike state, have we, as 'twere with a defeated joy, with an auspicious and a dropping eye...So with mirth in funeral and with dirge in marriage--That didn't come out right, did it?...of course, I meant to say "dirge in marriage and mirth in funeral...No. That's quite the same thing. (clears his throat) Right. "Dirge in mirth and funeral in marriage"...That sounds all right. Well, take this message, good Cornelius and Voltemand, to old Norway...

CORNELIUS

To anyone in particular, sire?

CLAUDIUS

Yes, to old Norway.

VOLTEMAND

Am I to understand, your majesty, that we deliver the message to the first old Norwegian we find?

CLAUDIUS

Of course not.

CORNELIUS

What His Majesty means, Voltemand, obviously, is that we should deposit the letter with a representative of all the aged persons in the state of Norway.

CLAUDIUS

No, you idiot! I mean take the letter to Fortinbras.

CORNELIUS

So we are to take it to his military encampment?

CLAUDIUS

Not young Fortinbras, old Fortinbras.

VOLTEMAND

But he's in Norway.

CLAUDIUS

That's right. Take it to old King Fortinbras in Norway.

CORNELIUS

I say, that's a long walk.

CLAUDIUS

Then don't walk. Ride your horse.

CORNELIUS

Oh. I hadn't thought of that.

VOLTEMAND

That's why he's king, isn't it?

CORNELIUS

Shall I take my toothbrush, then?

CLAUDIUS

Your what?

CORNELIUS

My toothbrush. If the journey should be overnight, I would need my toothbrush.

CLAUDIUS

Yes, take your toothbrush.

VOLTEMAND

Well then, if it's overnight, I'll need a change of clothes, won't I? Something "summery" I think.

CLAUDIUS

Something summery? It's bloody cold in Norway.

VOLTEMAND

Is that right?...Are you sure?

CLAUDIUS

Quite.

CORNELIUS

Isn't Norway to the south?

CLAUDIUS

No, it's not to the south. It's northeast.

VOLTEMAND

Really? Perhaps we're not talking about the same Norway, Your Majesty.

CLAUDIUS

There is only one Norway and it's north.

VOLTEMAND

But the Norway I mean is south, sire. You know, boot-shaped, balmy breezes, people who talk with their hands, Roman ruins, Chicken Tetrazini--

CLAUDIUS

That's Italy, you silly fop!

CORNELIUS

The Norway His Majesty refers to is where they have the bullfights and play the guitar all day and drink sangria--

CLAUDIUS

No! That s Armenia. The Norway I mean is just a few days journey by boat--

CORNELIUS

Or horse.

CLAUDIUS

Or horse...That way. (points)

VOLTEMAND

But that's northeast.

CLAUDIUS

Precisely.

CORNELIUS

Well, if you say so.

CLAUDIUS

I say so.

VOLTEMAND

Very good, sire. We'll go home and pack right now.

CLAUDIUS

Splendid. Then go and do as I bid you.

CORNELIUS and VOLTEMAND

In that and all things will we show our duty.

They bow to the King as POLONIUS and LAERTES enter. We hear CORNELIUS and VOLTEMAND speaking as they exit.

CORNELIUS

I say, Voltemand, maybe we can spend Sunday on the Norwegian Riviera.

VOLTEMAND

I think I'd like that.

Their voices fade as they exit.

CLAUDIUS

And now, Laertes...

LAERTES

Present, sire.

CLAUDIUS

What's the news with you?

LAERTES

Well I--

CLAUDIUS
(interrupting)

What wouldst thou beg, Laertes, that shall not be my offer, not thy asking?

LAERTES

Actually, Sire--

CLAUDIUS

The head is not more native to the heart, the hand more instrumental to the mouth than is the throne of Denmark to thy father.

POLONIUS
(bowing in acknowledgment)

Sire.

CLAUDIUS

What wouldst thou have, Laertes?

LAERTES

Well, since you ask, Sire, I–-

CLAUDIUS

Tell me...Well?

POLONIUS

Speak up, boy. The king is asking you something.

LAERTES

Now that your coronation is over, Sire, I should like to return to France.

CLAUDIUS

To France?

LAERTES

Yes, Sire.

CLAUDIUS

To France where the men wear skirts, eat oatmeal out of a goat's bladder, play those dreadful bagpipes...?

POLONIUS

Begging your Majesty's pardon, but I think that's Scotland.

CLAUDIUS

No it isn't Scotland. See here. I'm a king and I know my geography. Scotland is where the houses are made of paper, the people eat rice and do a lot of bowing.

POLONIUS
(reluctantly)

I stand corrected, Sire.

CLAUDIUS
(musing)

Yes, I distinctly remember a cruise I took to Scotland in my younger days, the nights of moonlight on the ocean, playing shuffleboard by day...Then there was this devil of a storm. We all got quite ill and I was almost washed overboard once, but the captain soon got us back on course...I recall England where everyone dressed in sheets and rode camels, and Wales with its giraffes and elephants and lions. Then it was on to...somewhere—-I can't quite recall the name--where the people wore feathers and smoked some ghastly thing they called to-back-ko, and finally there was Scotland where we rested in a gheisha house, had a hot bath and drank rice wine. It was most pleasant.

LAERTES

May I go, then?

CLAUDIUS

To Scotland?

LAERTES

No, Sire, to France.

CLAUDIUS

Have you your father's leave? What says Polonius?

POLONIUS

He hath, my lord, wrung from me my slow leave by laborsome petition and at last upon his will I sealed my hard consent. I do beseech you give him leave to go. If he wants to eat from a goat's bladder, that's his business.

HAMLET enters sighing.

CLAUDIUS

Take thy fair hour, Laertes, time be thine, and thy best graces spend it at thy will...

POLONIUS and LAERTES bow and exit.

CLAUDIUS

But now, my cousin Hamlet...

HAMLET
(sullen)

Nephew.

CLAUDIUS

My nephew Hamlet--and my son

HAMLET

Ugh...A little more than kin, and less than kind...And I'm not your son; I'm your nephew!

CLAUDIUS

And stepson.

HAMLET

Technically.

CLAUDIUS

How is it that the clouds still hang on you?

HAMLET

Not so, my lord, I am too much in the sun.

GERTRUDE

Good Hamlet, cast thy nighted color off, and let thine eye look like a friend on Denmark.

HAMLET

The country or the king? This is confusing.

GERTRUDE

Why, the king! The Great Dane, himself! (dog barks) Claudius...

CLAUDIUS
(to the offstage dog)

Shut up!...And as for you, Hamlet. You're so depressing, so drearily down in the mouth, so maliciously melancholy, not at all a fun person to be with these days. Nevertheless, I think of you as my son--a bit of a wet blanket, but my son. We pray you throw to earth this unprevailing woe, and think of us as a father...

HAMLET

Mother too?

CLAUDIUS

No, just me. Think of me as your father and your mother as your mother.

HAMLET

Oh.

CLAUDIUS

Let the world take note you are the most immediate to our throne, and with no less nobility of love than that which dearest father bears to his son–-

HAMLET

Oh please.

CLAUDIUS

And with no less nobility of love than that which dearest father bears to his son do I impart to you...For your intent in going back to school in Wittenberg, it is most retrograde to our desire.

HAMLET

But I've already purchased my beanie...(puts on school beanie)

GERTRUDE

Let not thy mother lose her prayers, Hamlet. I pray thee stay with us; go not to Wittenberg.

HAMLET

But I was to be goalie on the football team...

GERTRUDE
(resorting to baby talk)

Hamlet, pwease.

HAMLET

Oh, alright. I shall in all my best obey you, madam.

CLAUDIUS

Why, 'tis a loving and a fair reply. Be as ourself in Denmark. Madam come. This gentle and unforced accord of Hamlet sits smiling to my heart; in grace where of, no jocund health that Denmark drinks today, but the great cannon to the clouds shall tell, and the king's rouse the heaven shall bruit again, respeaking earthly thunder. Come away.

CLAUDIUS takes GERTRUDE's hand and they exit.

HAMLET

Bloody windbag...0 that this too too solid flesh would melt, thaw, and resolve itself into a...I do have a bit of a paunch. I could afford to drop a bit of weight...My God, I'm talking to myself. I must be going mad. It's all because of him and my mother. My father died and within a month; ere yet the salt of most unrighteous tears had left the flushing in her galled eyes, she married. 0, most wicked speed, to post with such dexterity to incestuous sheets. (produces a pad and pencil from his clothing) This is good stuff. I must write it down..."Post with such dexterity...to incestuous...sheets." That's good.

HORATIO and MARCELLUS enter.

HORATIO
(under his breath)

Oh dear, Marcellus, he's talking to himself.

HAMLET

Ho, there.

HORATIO

No, milord, not Ho. 'Tis your friend, Horatio.

MARCELLUS

And I your humble servant, Marcellus.

HORATIO

Hail to your lordship.

HAMLET

I am glad to see you well, Horatio. But what in faith make you from Wittenberg?

HORATIO

A truant disposition, good my lord.

HAMLET
(jovially)

Cutting classes again, Horatio?

HORATIO

My lord, I came to see your father's funeral.

HAMLET

I pray thee, do not nock me, fellow student. I think it was to see my mother's wedding.

HORATIO

Indeed, my lord, it followed hard upon.

HAMLET

Thrift, thrift, Horatio. The funeral-baked meats did coldly furnish forth the marriage tables.

HORATIO

I know, my lord. I hate cold meats, so I stayed with the egg salad.

HAMLET

A wise choice, my friend. I'm afraid I overstuffed a bit, myself...Tell me: do you think my flesh is too too solid?

MARCELLUS
(to HORATIO)

Tell him about the ghost.

HAMLET

The what?

HORATIO

Right. We saw the ghost of your father.

HAMLET

Are you sure?

HORATIO

I knew your father; these hands are not more like.

HAMLET

Not more like what?

HORATIO

Like each other, my lord.

HAMLET
(comparing his hands)

Oh...I see what you mean, but where was this?

MARCELLUS

My lord, upon the platform where we watched.

HAMLET

Did you speak to it?

MARCELLUS

My lord, I did, but answer made it none; yet once me thought it lifted up its head and did address itself to motion, like as it would speak; but even then the morning cock crew loud, and at the sound it shrunk in haste away and vanished fran our sight and the dish ran away with the spoon.

HAMLET and HORATIO consider the dish and the spoon a second quizzically.

HAMLET

'Tis vey strange...Then saw you not his face?

HORATIO

Whose? The dish or the spoon?

HAMLET

My father's, Horatio, my father's face!

MARCELLUS

0 yes, my lord, he wore his beaver up.

HAMLET

Are you sure it wasn't a hedgehog?

MARCELLUS

It could have been a hedgehog.

HAMLET

His heard was grizzled--no?

MARCELLUS

It was as I have seen it in his life a sable silvered.

HAMLET

A sable or a hedgehog?

MARCELLUS

Perhaps it was a hedgehog, my lord.

HAMLET

I will watch tonight, perchance 'twill walk again.

HORATIO

The hedgehog?

HAMLET

Forget the hedgehog, Horatio--that's good. (takes out pad and pencil, writes) Hedge...hog...Horatio...Will the ghost of my father walk again?

HORATIO

I warrant it will.

HAMLET

Then I'll see it. So fare you well. Upon the platform, 'twixt eleven and twelve, I'll visit you.

HORATIO and MARCELLUS
(bowing)

Our duty to your honor.

HAMLET

That's "your highness", actually...Your loves, as mine to you. Farewell.

HORATIO and MARCELLUS exit.

HAMLET

My father's spirit in arms--all is not well...I'm alone again and talking to myself! I need some rest. (exits)
---
ACT I, scene iii. The wharf on Elsinore Harbor.

LAERTES and OPHELIA enter.

LAERTES

My necessaries are embarked. Farewell. For Hamlet, and the trifling of his favor, perhaps he loves you now, but you must fear, his greatness weighed, his will is not his own. For he himself is subject to his birth. You are below his birth and, I'm afraid, no more than a bit of crumpet on the side, if you catch my drift.

OPHELIA

Good my brother, do not as some ungracious pastors do, show me the steep and thorny way to heaven, whiles like a puffed and reckless libertine--

LAERTES

Libertine! Why you...I oughta...Ohhh if you weren't my sister I'd...But here my father comes.

OPHELIA

Well, he's my father too, libertine. Wait 'til I tell him you tried to strike me.

LAERTES

I did not.

OPHELIA

Did too. Libertine, libertine, nothing but a libertine...and a woman hitter.

LAERTES

Eighteen years old and you're still a tattle-tale.

OPHELIA

And you're twenty-one and you've got the temper of a two-year-old.

LAERTES

Do not.

OPHELIA

Do too.

LAERTES
(forehead to forehead with her)

Do not! Do not! Do not!

OPHELIA

Do to! Do to! Do Toooooo!

LAERTES
(steps back, raising his hand in an idle threat)

Why you...

POLONIUS enters jogging in medieval jogging atire.

OPHELIA

Did you see that, Daddy? Did you?

POLONIUS is huffing and puffing and coughing as he stops jogging. Finally he catches his breath.

POLONIUS
(coughing and hacking)

Yet here, Laertes? Aboard, aboard, for shame! (more coughing) I would ask you to jog with me, but you've got a boat to catch. (cough, cough, cough)

OPHELIA

Daddy, Laertes tried to--

POLONIUS

No tattling today, Ophelia, Laertes is leaving for France and I have some advice to tell him.

OPHELIA

Good. 'Tis a fit punishment.

POLONIUS

Laertes, give thy thoughts no tongue, nor any unproportioned thought his act--

LAERTES
(cutting him off impatiently)

Yes, Father, and farewell. Farewell, Ophelia, you little...

OPHELIA

See, Daddy, he tried it again!

POLONIUS

There is more, Laertes.

OPHELIA

Good.

LAERTES
(bearing his teeth)

I oughta--

POLONIUS

Be thou familiar, but by no means vulgar. Those friends thou hast, and their adoption tried, grapple them unto thy soul with hoops of steel, but do not dull thy pain with entertainment of each new-hatched, unfledged courage. Beware of entrance to a quarrel; but being in, bear't that the opposed may beware of thee. Give every man thine ear, but few thy voice; take each man's censure, but reserve thy judgement--

LAERTES

Yes. Thank you, father. I will.

POLONIUS
(clears throat loudly)

Costly thy habit as thy purse can buy, but not expressed in fancy; rich, not gaudy--

LAERTES

Of course, Father, I--

POLONIUS

For the apparel oft proclaims the man, and they in France of the best rank and station are of a nust select and generous chief in that. Neither--

LAERTES with POLONIUS

a borrower nor a lender be...

LAERTES
(alone)

"For loan oft loses both itself and friend, and borrowing dulleth the edge of husbandry..."

POLONIUS

Have you heard this before?

LAERTES

Many times, Father.

OPHELIA

But we never tire of hearing it. Do we, Laertes?

LAERTES
(poised to slap her)

I swear I'll...

POLONIUS

Where was I?

OPHELIA
(smuggly)

"Husbandry."

POLONIUS

Oh yes. (mumbles) "Dulleth the edge of husbandry. (speaks up) This above all, to thine own self be true, and it must follow as the night the day thou canst not then be false to any man.

LAERTES
(after a pause for more advice)

Farewell?

POLONIUS

Farewell. My blessing season this in thee.

LAERTES

Most humbly do I take my leave, my lord.

POLONIUS

The time invites you. Go, your servants tend.

LAERTES

Farewell, Ophelia, and remember well what I have said to you.

OPHELIA

Mind your own business, libertine.

LAERTES

Brat!

OPHELIA

Woman hitter!

LAERTES
(as he exits)

Tattle-tale!

OPHELIA
(after LAERTES' exit)

Good riddance...

POLONIUS

What is't, Ophelia, he hath said to you?

OPHELIA
(coyly)

Oh something about the Lord Hamlet.

POLONIUS

Marry, well bethought. 'Tis told me he hath very oft of late given private time to you, and you yourself have of your audience been most free and bounteous. What is between you? Give me up the truth.

OPHELIA

Prince Hamlet hath, my lord, of late made many tenders of his affection to me.

POLONIUS

Affection? Pooh! You speak like a green girl.

OPHELIA

But I am a Green Girl, Father, First Class. You remember my earning all those merit badges, don't you?

POLONIUS

What I meant was--

OPHELIA
(lost in nostalgia)

Ahhh...Camping out, singing songs around the campfire, making smores, stringing macaroni beads while telling scary ghost stories, roasting marshmallows–-

POLONIUS
(clears throat)

For Lord Hamlet, do not believe his vows. I would not, in plain terms, from this time forth have you so slander any transient leisure as to give words or talk with the Lord Hamlet. Look to't, I charge you. Come your ways.

POLONIUS exits.

OPHELIA
I shall obey, my lord. (under her breath) I'm so sure.

OPHELIA exits.

Act I, scene iv. The battlements. The wind howls as a rooster crows. HAMLET, HORATIO and MARCELLUS enter. MARCELLUS is dressed for warmer weather in his Hawaiian shirt and Bermuda shorts.

HAMLET

The air bites shrewdly, Horatio; it is very cold.

HORATIO

It is a nipping and an eager air, milord.

MARCELLUS

Oh I don't know. It's actually quite balmy to me.

HORATIO

You're the balmy one, Marcellus. It's bleedin' freezing, it is.

MARCELLUS

Doesn't bother me, milord.

HORATIO

Well, it bothers me. Makes me shiver just to look at you.

MARCELLUS

Really, I'm fine, milord.

HAMLET

Give him your coat, Horatio.

HORATIO

He says he's fine, milord.

MARCELLUS

It is getting a bit on the nippy side.

HAMET

There, you see?

MARCELLUS

Alright. I'll take your coat then.

HORATIO

You will not. You should have dressed properly in the first place.

MARCELLUS

But Lord Hamlet said--

The GHOST enters below, moaning.

HORATIO

Look, my lord, it comes.

HAMLET

What, good Horatio?

HORATIO

The spirit. Just there, my lord. (points)

HAMLET

Angels and ministers of grace defend us! Be thou a spirit of health or goblin damned, bring with thee airs from bell, be thy intents wicked or charitable, thou comest in such a questionable shape that I will speak to thee. I'll call thee Hamlet, king, father, royal Dane, 0 answer me! Speak! (Dog barks.)

HAMLET, HORATIO and MARCELLUS
(to dog)

Shut up!

HORATIO

The spirit beckons you to go away with it, milord.

MARCELLUS

But do not go with it.

HORATIO

No, by no means.

HAMLET

It will not speak. Then will I follow it. Come.

HORATIO

Us?

MARCELLUS

All of us?

HORATIO

Hold him back, Marcellus. You shall not go, my lord.

HAMLET

Hold off your hands.

MARCELLUS

Be ruled. You shall not go.

HAMLET

Very well then, you two go with it.

MARCELLUS

But it beckons you, my lord.

HORATIO

Yes, it looks like your father, not mine. Go, my lord.

MARCELLUS

Go, my lord.

HAMLET

Lead on, spirit. I'll follow thee. (exits)

HORATIO

He waxes desperate with imagination.

MARCELLUS

Let us follow--at a safe distance.

HORATIO

To what issue will this come?

MARCELLUS
(suddenly the orator)

Something is rotten in the State of Denmark.

HORATIO

Sorry. I did'nt realize this was still in my pocket. It's an egg salad sandwich from the combination funeral-wedding party last month. (tosses aside sandwich)

MARCELLUS

Right. Let's follow.

HORATIO and MARCELLUS exit. HAMLET enters at a lower level. The GHOST appears behind him.

HAMLET

Hither wilt thou lead me, o ghost? Speak. I'll go no further.

GHOST

Mark me.

HAMLET
(searching his pockets)

I'm afraid I left my chalk behind.

GHOST

My hour is almost come, when I to sulfurous and tormenting flames must render up myself.

HAMLET

Alas, poor ghost!

GHOST

Oh, it's not bad really. It certainly beats this bloody Elsinore weather--bloody cold and wet all the time...Where was I?

HAMLET

You were about to tell me something, I think.

GHOST

Right. I am thy father's spirit and--

HAMLET

I knew it!

GHOST

Don't interrupt me, boy. You always interrupted me when I told you a story...I am doomed for a certain term to walk the night, and for the day confined to fast in fires, till the foul crimes done in my days of nature are--

HAMLET

Foul crimes? You father?

GHOST

Till the foul crimes done in my days of nature are burnt and purged away. List, list, 0 list!

HAMLET
(taking out pad and pencil)

I am prepared for notes.

GHOST

Don't write anything down! Give me that! (takes pad and pencil)

HAMLET

But you said...

GHOST

What's this? (reads) "Post with such dexterity to incestuous sheets hedgehog Horatio?"

HAMLET

Just random thoughts, Father. I thought I'd pen a play someday.

GHOST

About an incestuous hedgehog named Horatio?

HAMLET
(nervously)

One never knows. It might be boffo in the old box office, what?

GHOST

Forget the hedgehog. Hamlet, if thou didst ever thy dear father love, revenge his most unnatural murther.

HAMLET

Murther?

GHOST

You see? I'm so upset, I'm lisping. Try "murder", "murder most foul".

HAMLET

Murder by a chicken?

GHOST

'Tis given out that, sleeping in my orchard, a serpent stung me.

HAMLET

But it was a chicken, not a serpent!

GHOST

Who's telling this story, Hamlet?

HAMLET

Sorry.

GHOST

Right...Know thou, noble youth, the serpent that did sting thy father's life now wears his crown.

HAMLET

A snake wears your crown?

GHOST

Metaphorically speaking...

HAMLET

0 my prophetic soul! My uncle!

GHOST

Congratulations...Aye that incestuous, that adulterate beast, with witchcraft of his wit, with traitorous gifts--O wicked wit and gifts, that have the power so to seduce--won to his shameful lust the will of my most seeming-virtuous queen.

HAMLET

Blighter!

GHOST

But soft, methinks I scent the morning air. (pause) Methinks I scent the morning air! (clears throat, shouts louder) Methinks I scent the morning air!!

VOICE

Sorry. (crows like a rooster)

GHOST

Right. Hamlet, if thou hast nature in thee, bear it not. Let not the royal bed of Denmark be a couch for luxury and damned incest. But howsomever thou pursues this act, taint not thy mind, nor let thy soul contrive against thy mother aught, leave her to heaven. (clears throat) Leave her to heaven!

VOICE

Keep your shirt on. (crows)

GHOST
(as he exits)

Adieu, adieu, adieu. Remember me...

HAMLET

Adieu. Remember thee? Yea, from the table of my memory I'll wipe away all trivial fond records, all saws of books, all forms, all pressures past that youth and observation copied there, and thy commandment alone shall live within the book and volume of my brain, unmixed with baser matter. Yes, by heaven, I'll remember thee, Uncle!

GHOST
(from off stage)

Father!

HAMLET

Right. Father. Now to my word: It is "Adieu, adieu, remember me. I have sworn't.

HORATIO and MARCELLUS
(off stage, then they enter)

My lord! My lord! My lord! Lord Hamlet!

They find HAMLET and join him.

HORATIO

Heavens secure him!

HAMLET

So be it! what, have you been following all along?

MARCELLUS

Well, I did go home and get this sweater first. Like it?

HORATTO

Still, I wish you'd cover your legs as well...What news, my lord?

HAMLET

0, wonderful!

HORATTO

How "wonderful"?

HAMLET

Well, not so good, really.

HORATTO

Good my lord, tell it.

HAMLET

No, you will reveal it.

HORATIO

Not I, my lord, by heaven.

MARCELLUS

Nor I, my lord.

HAMLET

Well, perhaps...No, I can't tell you now.

MARCELLUS

Come on...

HAMLET

However, as you are friends, scholars, and soldiers, give me one poor request.

HORATIO

What is't, my lord? We will.

HAMLET

Never make known what you have seen tonight.

MARCELLUS

That's not much, is it? Just a bloody ghost and you won't even tell us what he said. Some bloody secret.

HAMLET

Nay, but swear't.

HORATIO

I swear it.

MARCELLUS
(reluctantly)

And I, my lord.

HAMLET

Upon my sword.

MARCELLUS

We have sworn, my lord, already. Much ado about nothing, I say.

GHOST
(off stage)

Swear!

MARCELLUS

Damn it, bloody bugger!

HORATIO

Not that way, you twit; on the sword.

GHOST

Swear!

HAMLET

You hear this fellow in the cellarage. Consent to swear.

HORATIO

Propose the oath, my lord.

HAMLET

Never to speak of this that you have seen. Swear by my sword.

GHOST

Swear!

MARCELLUS

I wish he'd stop doing that. All right, I swear.

HAMLET

Here and everywhere? Then we'll shift our ground. Come hither, gentlemen. Swear by my sword.

MARCELLUS

Is all this really necessary, my lord. I mean we–-

GHOST

Swear by his sword!

MARCELLUS

Right. Whatever you say!

HORATIO

O day and night, but this is wondrous strange.

MARCELLUS

You just noticed that, did you?

HAMLET

There are more things in heaven and earth, Horatio, than are dreamt of in your philosophy.

HORATIO

Well quoted, Lord Bartlet.

HAMLET

That's Hamlet.

GHOST

Swear!

MARCELLUS

We swear already! (under his breath) Bloody ectoplasmic git.

GHOST

I heard that!

HAMLET

Rest, rest, perturbed spirit! So, gentlemen, let us go in together, and still you fingers on your lips, I pray.

MARCELLUS

We swore five times, didn't we? (exits, his voice trailing into the distance) Bloody swear this and swear that...

HORATIO exits.

HAMLET
(not seeing he is alone)

The time is out of joint. 0 cursed spite that ever I was born to set it right!...Chaps?...Where the devil...Nay, come, let's go together! Chaps? Chaps! Wait please! Wait for your prince...I command you! Chaps?! (exits in search of them)

Act I, scene v. A hallway in Elsinore Castle.

POLONIUS enters. OPHELIA enters, running behind him. He stops when she calls out.

OPHELIA

Father! 0 my lord, my lord. I have been so affrighted!

POLONIUS

With what in the name of God?

OPHELIA

My lord, as I was sewing in my closet-

POLONIUS

Ophelia, how many times have I told you that your closet is too dark for sewing. You'll ruin your eyes.

OPHELIA

Yes, Father, but as I was saying, lord Hamlet, with his doublet all unbraced, no hat upon his head, his stockings fouled, ungartered, and down-gyved to his ankle, pale as shirt, his knees knocking each other, and with a look so piteous in purport as if he bad been loosed out of Hell to speak of horrors--he comes before me.

POLONIUS

What, in your closet?

OPHELIA

No, in my bed chamber. I had the door open.

POLONIUS

Mad for thy love, was he?

OPHELIA

My lord, I do not know, but truly I do fear it.

POLONIUS

What said he?

OPHELIA

He took me by the wrist and held me hard.

POLONIUS

And in the closet!

OPHELIA

No Father, on my bed. And then I was on top and I held him hard while he--

POLONIUS

I've heard enough!

OPHELIA

He raised a sigh so piteous and profound--

POLONIUS

Enough daughter! I get the picture. Come, go with me. I will go seek the king. This is the very ecstacy of love...

OPHELIA
(ecstatically)

Oh yes!

POLONIUS

And you had done nothing to encourage him?

OPHELIA
(gathering composure)

No, my good lord; but as you did command, I did repel his letters and denied his access to me.

POLONIUS

That hath made him mad.

OPHELIA
(orgasmically)

Mad! Mad!

POLONIUS

Come, go we to the king.

OPHELIA

Oh, Daddy, I'm certain Lord Hamlet meant it all in a nice way. I mean, he was so gentle, so responsive, so willing to please...

POLONIUS

Come, go we to the king. (pulling her by the hand)

OPHELIA

But Daddy...

POLONIUS

Come, go!

POLONIUS and OPHELIA exit.

Act I, scene v. Elsinore Castle. The Royal Court. Rosencrantz and Guildenstern, looking identical to CORNELIUS and VOLTEMAND, stand before the king and queen.

CLAUDIUS

Welcome, dear Rosencrantz and Guildenstern. Moreover that we much did long to see you, the need we have to use you did provoke our hasty sending. Something have you heard of Hamlet's transformation--so call it, sith nor the exterior nor the inward man resembles that it was. What it should be more than his father's death, that thus hath put him so much from the understanding of himself, I cannot dream of.

ROSENCRANTZ
(whispering)

Guildy, what's he on about?

GUILDENSTERN
(whispering)

Something to do with Lord Hamlet.

CLAUDIUS

So by your companies to draw him on to pleasures, and to gather so much as from occasion you may glean, whether aught to us unknown afflicts him thus, that opened lies within our remedy.

ROSENCRANTZ

Come again?

GERTRUDE

Good gentlemen, he bath much talked of you, and sure I am two men there are not living to whom he more adheres. If it will please you to show us so much gentry and good will as to expend your tune with us awhile for the supply and profit of our hope, your visitation shall receive such thanks as fits a king's remembrance.

ROSENCRANTZ
(whispering)

She's at it too, is she?

GUILDENSTERN
(whispering)

Quite a verbose lot they are.

ROSENCRANTZ

"Verbose" eh? Where'd you get that?

GUILDENSTERN

What, "verbose"? It's part of me vocabulary. I've always used it.

ROSENRANTZ

Oh "vocabulary", that's nice. So now that we're in court we're not half using a lot of big words, are we?

GUILDENSTERN

I don't know what you mean. Just because I employ a few polysyllabic--

ROSENCRANTZ

Oh it's "polysyllabic" now, is it? Just you answer me this, Guildy, where did you bloody learn to talk like that?

GUILDENSTERN

In university, of course.

ROSENCRANTZ

In university?"

GUTLDENSTERN

That's right. Don't you remember? You were there.

ROSENCRANTZ

I was?

GUILDENSTERN

Certainly, Rosey, we're students, quite scholarly courtiers, young noblemen, old school chums of Lord Hamlet.

ROSENCRANTZ

Are we really? I thought we were ignorant gravediggers, shepherds, stable grooms--something like that--hairdressers maybe.

GUILDENSTERN

Well, we're not. We're courtiers and scholars, we are.

ROSENCRANTZ

But we're so sketchily drawn. I mean nobody can even tell us apart.

GUILDENSTERN

Be that as it may, we are courtiers, Guildenstern.

ROSENCRANTZ

I thought you were Guildenstern.

GUILDENSTERN

Well, so I am! I'm beginning to see what you mean about our being poorly drawn. Quite confusing really.

CLAUDIUS
(clears throat)

If the two of you are finished delineating your characters, can we get on with it?

GUILDENSTERN

Of course, Your Majesty. Right, Guildy?

ROSENCRANTZ

"Rosey", you twit! I'm Rosencrantz and you're Guildenstern.

GUILDENSTERN

Oh. I did it again, didn't I? Oh this is most embarassing.

CLAUDIUS

So, will you do it?

ROSENCRANTZ

Do what, sire?

CLAUDIUS

Spy on Hamlet as I said before.

GUILDENSTERN

Oh, "spy" on him!

GERTRUDE

And find out why he's so morose all the time.

GUILDENSTERN

Morose?

ROSENCRANTZ
(to GUILDENSTERN sarcastically)

You know, it rhymes with "verbose".

GUILDENSTERN

Right. We both obey, and here give up ourselves in the full bent to lay our service freely at your feet, to be commanded.

CLAUDIUS
(shakes GUILDENSTERN's hand, then ROSENCRANTZ's hand)

Thanks, Rosencrantz and gentle Guidenstern.

GUILDENSTERN

Uh, sire, I'm Guildenstern and he's Rosencrantz.

GERTRUDE
(pats ROSENCRANTZ's hand, then GUILDENSTERN's hand)

Thanks, Guildenstern and gentle Rosencrantz...

ROSENCRANTZ

Er, I'm gentle Rosencrantz, your Majesty, and he's--

GERTRUDE

I beseech you instantly to visit my too much changed son.

GUILDENSTERN

Heavens make our presence and our practices pleasant and helpful to him!

GERTRUDE

Aye, amen!

ROSENCRANTZ and GUILDENSTERN converse as they exit.

ROSENCRANTZ

We're priests then?

GUILDENSTERN

No, Rosenstern, I'll explain it to you just once more. (exits)

ROSENCRANTZ

Did you say "Rosenstern"? (exits)

GUILDENSTERN
(off stage)

Of course not. I said, "Guildencrantz".

ROSENCRANTZ

(off stage) Oh.

POLONIUS enters.

CLAUDIUS

Come, good Polonius. What say you?

POLONIUS

Sire, the ambassadors from Norway are joyfully returned.

CLAUDIUS

Thou still hath been the father of good news.

POLONIUS

Have I, my lord? I do think that I have found the very cause of Hamlet's lunacy.

CLAUDIUS

0, speak of that! That do I long to hear.

POLONIUS

Give first admittance to the ambassadors, Sire. My news shall be the fruit to that great feast.

CLAUDIUS

My what a nice figure of speech--a simile, what?

POLONIUS

No, a metaphor, sire.

CLAUDIUS

Well, jolly well done whatever it was.

POLONIUS

Thanks, my lord. Your majesty shall sup on the great fruit of my news.

CLAUDIUS

Was that another one?

POLONIUS
(proudly)

Yes, sire. I must confess it was. Did you like it?

CLAUDIUS

Oh very much so.

POLONIUS

And I do hope that the seeds of the fruit of my news lodge not betwixt the teeth of thy pleasure.

CLAUDIUS

No, I didn't like that one at all. Do you have any others?

POLONIUS

Well, how about this one--

GERTRUDE

Claudius, the ambassadors are waiting.

CLAUDIUS

Yes, yes. Polonius, show them in.

POLONIUS bows and exits.

CLAUDIUS

Polonius tells me, my dear Gertrude, he hath found the head and source of all your son's distemper.

GERTRUDE

I doubt it is no other than the main, his father's death and our o'erhasty marriage.

CLAUDIUS

Still harping on that is he? I mean it's already been two weeks, hasn't it?

GERTRUDE

Two months, dear my lord.

CLAUDIUS

Well, there you are then: two months. That's four fortnights, eight weeks, sixty days, one thousand four hundred forty hours. It's eighty-six thousand four hundred minutes! Really, it's quite tedious of him to go on so.

POLONIUS re-enters with CORNELIUS and VOLTEMAND who are wearing sunglasses, having just returned from the "Norwegian Riveriera."

POLONIUS

The ambassadors, sire. (bows and exits)

CLAUDIUS

Welcome, my good friends. Say, Voltemand, what from our brother Norway?

VOLTEMAND

Our brother?

CLAUDIUS

Not your brother, my brother. I was employing the "royal we".

VOLTEMAND

Oh, I see...Is he really your brother?

CLAUDIUS

I was speaking metaphorically, of course. I and Norway and France and England and Scotland and Flanders and Naples and Castille and Lictenschtein and so forth. Well, you see, we all belong to a small, but exclusive, brotherhood, a fraternity of monarchs: kings, princes, emperors, queens, princesses, czars, sultans, shahs, maharajas...

CORNELIUS

Barons, earls, marquises...

CLAUDIUS

No no, none of that riff-raff. An occasional grand duke, perhaps. No, I'm talking about the creme de la crene, the top of the heap, the few, the elite, the regal pinnacle of personages, the special society of stupendous sovereigns...

GERTRUDE

Methinks I feel a song coming on.

CLAUDIUS

The chosen of God, the anointed, the possessors of the devine rights of kings!

CLAUDIUS takes GERTRUDE by the hand. They stand as a musical introduction is played. They dance a minuet as the king sings "The King of Clubs."

CLAUDIUS
(singing)

O the king of clubs is the club of kings
In which regal ones do such regal things,
Such as wearing royal crowns,
Such as wearing royal rings.
Yes, the king of clubs is the club of kings.

All
The king of clubs is the club of kings.

CLAUDIUS and GERTRUDE dance the minuet.

CLAUDIUS
(sings)

The king of clubs only sports the best
With each blue-blooded heart
In each blue-blooded chest.
We're so glad we're the oppressors
Instead of the oppressed.
0 the king of clubs only sports the best.

All
The king of clubs only sports the best.

CLAUDIUS
(speaking to audience)

You, out there, would you like to see our secret royal handshake? You'd like to wouldn't you? Well, you can't...because you're a bunch of bloody commoners!

GERTRUDE

Really, Claudius.

CLAUDIUS
(sings)

We are the club of the terribly well-fed
Who can have squab and ale, say,
For breakfast in bed.
Our only problem is
We're all dangerously in-bred.

ALL
The club of kings is dangerously in-bred.

CLAUDIUS
(speaking)

Right. That's enough musical comedy for today, subjects. Carry on as before. Go. Work. Serve. Grovel...

CLAUDIUS takes GERTRUDE's hand and they return to sit on their thrones.

CLAUDIUS
(to VOLTEMAND) Well?

VOLTEMAND

Sire?

CLAUDIUS

What news, Voltemand?

VOLTEMAND

Oh, the news.

CLAUDIUS

What from our brother Norway?

VOLTEMAND

Our brother is Norway?

CLAUDIUS

Do I have to sing another song to make you understand?

CORNELIUS

No!

VOLTEMAND

No!...No, Sire. That won't be necessary. (takes scrolled message from inside his clothes, reads aloud) Most fair return of greetings and desires. Upon our first, he sent out to suppress his nephew's levies, which to him appeared to be preparation 'gainst the Polack"

CLAUDIUS

What is it in a nutshell, Voltemand?

VOLTEMAND
(searching his clothes)

Nut shell", Sire? I'm afraid I don't have any.

CLAUDIUS

Tell me what he said and quickly!

VOLTEMAND

But he didn't say it quickly, Sire.

CLAUDIUS

Guards! (GUARDS enter, CLAUDIUS motions, and GUARDS take VOLTEMAND away.) Now, good Cornelius, can you tell me quickly what the message says?

CORNELIUS

Yes, Sire. (Gulps a deep breath, speeds through message.) Old Norway said Fortinbras couldn t attack us. Fortinbras said "all right". Norway raised his allowance and told him to attack Poland. (Gulps a bigger breath.)

CLAUDIUS

Guards! (GUARDS enter.) Take him away! (GUARDS take the bewildered CORNELIUS away.)

CORNELIUS
(as he is being dragged away)

But, Sire!

CLAUDIUS
(to the audience)

There s just no poetry anymore. (sighs)

Act I, scene ix. Still in the Royal Court

POLONIUS

This business is well ended. My liege and madam, to expostulate what majesty should be, what duty is, why day is day, night night, and time is time, were nothing but to waste night, day, and time. Therefore, since brevity is the soul of wit and tediousness the limbs and outward flourishes, I will be brief: your noble son is mad. Mad call I it, for to define true madness, what is it but to be nothing else but mad? But let that go.

GERTRUDE

More matter, with less art.

POLONIUS

Madam, I swear I use no art at all. That he is mad, 'tis true; 'tis true 'tis pity, and pity 'tis 'tis true--a foolish figure. But farewell it, for I will use no art. Mad let us grant him then, and now remains that we find out the cause of this effect--or rather say, the cause of this defect, for this effect defective comes by cause. Thus it remains, and the remainder thus--

CLAUDIUS

Guards!

POLONIUS
(quickly)

Hamlet sent this letter to Ophelia, my lord.

GUARDS enter.

CLAUDIUS

Does this have anything to do with Hamlet's madness?

POLONIUS

I do so believe, my lord; he is mad for her love. (CLAUDIUS motions GUARD away, POLONIUS reads) "Doubt thou the stars are fire; doubt that the sun doth move--"

CLAUDIUS

Don't read the bloody thing aloud! How may we try it further?

POLONIUS

You know sometimes he walks four hours together here in the lobby.

GERTRUDE

So he does indeed.

POLONIUS

At such a time I'll loose my daughter to him. Be you and I behind an arras then. Mark the encounter. If he love her not, and be not from his reason fallen thereon, let me be no assistant for a state but keep a farm and carters.

CLAUDIUS

We will try it.

GERTRUDE
(spying HAMLET entering downstage)

But look where sadly the poor wretch comes reading.

POLONIUS

Away, I do beseech you both, away. (CLAUDIUS and GERTRUDE stand.) I'll board him presently. (HAMLET stands downstage reading a book which looks very much like a "Pelican" or "Penguin" or "Signet" paperback of "Hamlet") 0 give me leave. (CLAUDIUS and GERTRUDE exit upstage.) How does my good Lord Hamlet?

CLAUDIUS
(re-entering briefly)

Farm and carters?"

POLONIUS
(motioning CLAUDIUS away, CLAUDIUS exits)

Away, my lord. Please.

HAMLET
(looking up after a long pause)

How does your good Lord Hamlet do what?

CLAUDIUS
(re-re-entering)

Do be brief. (Steps downstage to them.) This play is already too long, and we'd like to be out of here in time for the Renaissance. (takes out a book identical to HAMLET's) Why don't we assume much of this business takes place offstage. (Scans script.) Let's skip ahead to Line 381 on Page 80. (HAMLET and POLONIUS take out their books, scan them.) Have it? Cheery-bye. (exits)

HAMLET

Who died and made him king?

CLAUDIUS
(offstage)

Your father!

HAMLET

Right.

POLONIUS
(reading from book)

My lord, I have news to tell you.

HAMLET

Beg pardon?

POLONIUS
(pointing to line in hook)

"The actors come hither, my lord."

POLONIUS indicates the three clownish PLAYERS who now enter from upstage.

POLONIUS

The best actors in the world, either for tragedy, (PLAYERS mime tragedy.) comedy, (PLAYERS mime comedy.) history, (They try to mime each genre as quickly as POLONIUS can speak it, the pace quickening until they exhaust themselves.) pastoral, pastoral-comical, historical-pastoral, tragical-historical, tragical-comical-historical-pastoral--

HAMLET

Guards!

POLONIUS exits in a hurry. The PLAYERS begin to exit also, but HAMLET calls them back.

HAMLET

You are welcome actors, masters all! (HAMLET meets them halfway up the levels of the stage, gathers them around himself, and the PLAYERS listen as immovably and as seriously as any three stooges or Marxes full of mischief.) Could you perform "The Murder of Gonzago" for us at court tonight? (They mime murdering one another and nod "Yes".) Could you insert a speech of some fourteen lines which I will give you? (They look at one another doubtfully until HAMLET takes a bag of gold coins from his clothing, opens the bag, lets the PLAYERS peer inside, and draws the strings on one of their noses.) Splendid! The play's the thing wherein I'll catch the conscience of the king! (The PLAYERS all applaud, or at least mime applause.) Thank you, so much! I say, could you chaps teach me to act? (The PLAYERS mime trying to hold back uncontrolable laughter.) Everyone says "Hamlet's tragic flaw is that he can't act." I never understood that. (One of the PLAYERS takes his book, HAMLET looks around, the three play keep away with the book, HAMLET looks around again, one PLAYER skims through the pages of the book and taps HAMLET on the shoulder.) Oh, you've found it. (The PLAYER points out something in the book as another player whispers in HAMLET's ear.) Alright, then: To be!" (The third PLAYER mimes for HAMLET to be more forceful.) Very well: "To be!" (One PLAYER pinches HAMLET's lips into a pucker.) "Tuh" (Another PLAYER adjusts HAMLET's posture, the one still pinching the lips.) "Tuh bih." (The remaining PLAYER squeezes HAMLET around the kidneys.) Oooph! (The three PLAYERS mime for HAMLET to try the speech again.) "To be!" (One whispers in HAMLET's ear.) "To be! Or not to be!" (One PLAYER becomes the conductor and the other two are the silent chorus on either side of HAMLET.) "To be to be toooo. A to be to be. To be to be tooo." (HAMLET "to be's" to the tune of "Strangers In The Night" as they all exit together downstage... or other stage directions to that effect.)

Act I, scene vi. Elsinore Castle, the lobby. We see a long curtain or tapestry or arras is stretched across in front of the upper platform upstage. Downstage of it are CLAUDIUS, POLONIUS and OPHELIA.

POLONIUS

Ophelia, walk you here. (to CLAUDIUS) Gracious, so please you, we will bestow ourselves. (to OPHELIA, handing her a small book) Read on this book.

OPHELIA
(reading aloud)

He pressed his manly loins against her hot thighs and——"

POLONIUS
(grabbing the book away)

Never mind! (We HAMLET singing offstage.) I hear him coming. Let us withdraw.

POLONIUS, OPHELIA and CLAUDIUS all hide behind the arras, but the audience, and presumably HAMLET, can easily see their feet. HAMLET enters, still singing "To be to be toooo". When he reaches downstage center, HAMLET, now every inch an actor, begins doing stretches, and the most bizarre vocal warm—ups possible. Finally, he stops.

HAMLET

Enough warm—ups, then.

He climbs the levels to the top platform, takes a stance, and proceeds to perform the most overacted, over—mannered, schtickiest version of the following soliloquy that has ever been perpetrated.

HAMLET

To be, or not to be, that is the question:
Whether 'tis nobler in the mind to suffer
The slings and arrows of outrageous fortune
Or to take arms against a sea of troubles
And by opposing end them. To die, to sleep
No more and by a sleep to say we end
The heartache and the thousand natural shocks
That flesh is heir to. 'Tis a consumation
Devoutly to be wished. To die, to sleep
To sleep, perchance to dream: aye there's the rub,
For in that sleep of death what dreams may come
When we have shuffled off this mortal coil,
Must give us pause. (four or five beats) There's the respect
That makes calamity of so long life.
For who would bear the whips and scorns of time,
The oppressor's wrong, the proud man's contumely.
(suddenly puzzled) "contumely"? (continues)
The pangs of despised love, the law's delay,
The insolence of office, and the spurns
That patient merit of the unworthy takes,
When he himself might his quietus make
With a bare bodkin? Who would fardels bear,
To grunt and sweat under a weary life,
But that the dread of something after death,
The undiscovered country, from whose bourn
No traveler returns, puzzles the will,
And makes us rather bear those ills we have
Than fly to others that we know not of?
Thus conscience does make cowards of us all,
And thus the native hue of resolution
Is sicklied o'er with the pale cast of thought,
And enterprises of great pitch and moment
With this regard their currents turn awry
And lose the name of action.

HAMLET
(then after a beat)

Who says I can't act?

POLONIUS shoves OPHELIA through a slit in the arras. OPHELIA tries to return behind the curtain, but POLONIUS points a stern finger downstage. OPHELIA warily descends the levels toward HAMLET. He turns around when she speaks.

OPHELIA

Good my lord, how does your honor for this many a day?

HAMLET

I humbly thank you, well, well, well.

OPHELIA

I have your letters, my lord. I've been meaning to return them.

HAMLET

I never sent you any letters.

OPHELIA

My honored lord, you know right well you did, and with them words of so sweet breath composed as made the things more rich. Their perfume lost, take these again. (takes letters from her bodice; with some difficulty) Take these again, for to the noble mind rich gifts wax poor when givers prove unkind.

HAMLET

I see...(aside) Now I'll show them some acting! (to OPHELIA, maniacally) Ha ha! Are you honest?

OPHELIA

My lord?

HAMLET

Are you fair?

OPHELIA

What means you lordship?

HAMLET

If you're fair, you really should stay out of the sun.

OPHELIA
(fed up)

That does it! (swinging her arm for a "round house" punch) I'm bloody well sick of all this bleeding advice! (knocks him in the jaw, sending him to the floor)

HAMLET
(shaken, holding his jaw)

Get thee to a nunnery?

OPHELIA

Go to hell!

She exits in a huff. HAMLET, dazed, stumbles away as he too exits--in the opposite direction. When they have left, CLAUDIUS and POLONIUS step from behind the curtains.

CLAUDIUS

Love? His affections do not that way tend. And what is Ophelia on about?

POLONIUS

I know not, my lord, but what of Hamlet?

CLAUDIUS

He is either mad or he is the worst actor I've ever seen. There's something in his soul o'er which his melancholy sits on brood, and I do doubt the hatch and the disclose will be of some danger; which for to prevent, I have in quick determination thus set it down: he shall with speed to England for the demand of our neglected tribute. What think you on't?

POLONIUS

It shall do well. But yet do I believe the origin and commencement of his grief sprung from neglected love. My lord, if you hold it fit, after the play let his queen mother all alone entreat him, to show his grief. Let her be round with him, and I'll be placed, so please you, in the ear off all their conference. If she find him not, to England send him, or confine him where your wisdom best shall think.

CLAUDIUS

It shall be so! Madness in great ones must not unwashed go.

CLAUDIUS exits.

POLONIUS
(following CLAUDIUS)

Me thinks that is "unwatched", Sire, not "unwashed". (exits)

CLAUDIUS
(offstage)

Are you sure?

Act I, scene vii. Elsinore Castle. The Royal Court. HAMLET and HORATIO enter. They spy the grand procession amassing just offstage.

HAMLET

They are coming to the play. I must idle. Get you a place and note how the king reacts.

HORATIO exits as GLAUDIUS and GERTRUDE lead a court parade from the other end of the downstage area up the levels to the top platform. POLONIUS and OPHELIA follow, with ROSENCRANTZ and GUILDENSTERN bringing up the rear and carrying the wicker thrones while playing the kazoo fanfare. CLAUDIUS and GERTRUDE sit on their thrones. POLONIUS and OPHELIA to one side. ROSENCRANTZ and GUILDENSTERN stand on either side of the gathered party.

CLAUDIUS
(seeing HAMLET below)

How fares our cousin Hamlet?

HAMLET
(climbing the levels angrily)

I'm not your cousin. I'm not your son. I'm your nephew and nothing more.

CLAUDIUS

And step son.

HAMLET

All right then, step son...(playing to his audience) I fare excellent, in faith, of the chameleon's dish. I eat the air, promised-crammed. You cannot feed capons so.

CLAUDIUS
(analytically)

No. I don't much care for those metaphors. A bit obscure, what? I much prefer "My news shall be the fruit to that great feast," "A nod is as good as a wink to a blind horse."--that sort of thing.

HAMLET

My lord Polonius, you played once in the university, you say?

POLONIUS

Quite the contrary, my lord. I was a serious student and was not there to play. There was only that one incident with the goat, but--

HAMLET

I mean, you enacted a role in a play.

POLONIUS

Oh quite, quite. I did enact Julius Caesar. I was killed in the Capitol; Brutus killed me.

HAMLET

Killed in the Capitol? Sounds rather painful. Stabbed in the rotunda, no doubt. (to HORATIO who enters downstage) Be the players ready?

HAMLET crosses to stand by OPHELIA.

HORATIO

Ay, my lord. They stay upon your patience.

GOOD HUMOUR MAN enters suddenly with his tray of bottled drinks in appropriate colors.

GOOD HUMOUR MAN

Hot blood, cold blood! Black bile, yellow bile, phlegm!

HAMLET

Vendor, do get your business done at once. The play is about to begin.

GOOD HUMOUR MAN

What'll ya have, governor?

HAMLET

Are they truly good humours?

GOOD HUMOUR MAN

I dare say they are. Have a taste?

HAMLET

Perhaps later.

GOOD HUMOUR MAN

Suit yourself. Your yellow bile is best when fresh. (Wanders among the court.) Hot blood! Cold blood! Black bile! Yellow bile! Phlegm!

CLAUDIUS
(to GERTRUDE)

Bile, my lady?

GERTRUDE

Please, I'm on a diet.

GOOD HUMOUR MAN exits. There is a kazoo fanfare as those standing sit down to watch the play below. The PLAYERS act out a dumb show, a pantomime of the play to follow.

OPHELIA

What means this, my lord?

HAMLET

Marry, this is miching mallecho; it means mischief.

OPHELIA

Belike this show imparts the argument of the play. (fanfare)

HAMLET

So it does, but what's this nonsense?

A puppet theatre is wheeled out and the plot is repeated with hand puppets.

HAMLET

These short subjects are so tedious.

There is another kazoo fanfare as the lights fade out except for a spotlight on the back of the now turned around puppet theatre. Several pairs of hands now perform finger shadows. We hear OPHELIA and HAMLET speak in the darkness.

OPHELIA

My lord, are these previews of coming attractions?

HAMLET

It's a bloody give away of the plot, it is.

OPHELIA

Oh, bad show.

HAMLET

Indeed.

The spotlight fades out. When the lights come up again, the stage is cleared of the puppet theatre and all but one PLAYER, who is dressed in a modern white suit with a string tie.

FIRST PLAYER

For us and for our tragedy, here stooping to your clemency, we beg your hearing patiently.

HAMLET

Would you get on with it?!

FIRST PLAYER

Right. Here we go then. (Strikes a pose, clears his voice and speaks with a deep southern dialect, not unlike "Big Daddy" in Tennessee Williams "Cat on a Hot Tin Roof".) Full thirty times hath Phoebus' cart gone round Neptune's salt wash and Tellus' or-bed ground, and thirty dozen moons with borrowed sheen about the world have times twelve thirties been, since love our hearts, and Hymen did our hands unite commutual in most sacred bands.

As the FIRST PLAYER extends his hand, the SECOND PLAYER enters, a Williams heroine in a white slip, speaking like "Maggie the Cat", "Baby Doll" or "Blanche Dubois". He takes the hand of the FIRST PLAYER.

SECOND PLAYER

So many journeys may the sun and moon make us again count o'er ere love be done! But woe is me, you are so sick of late, so far from cheer and from your former state, that I distrust you. Yet, though I distrust, discomfort you, my lord, it nothing must. For women's fear and love hold quantity in neither aught, or in extremity. Now what my love is, proof hath made you know, and as my love is sized, my fear is so. Where love is great, the littlest doubts are fear; where little fears grow great, great love grows there.

FIRST PLAYER

Faith, I must leave thee, love, and shortly too; my operant powers their functions leave to do. And thou--

SECOND PLAYER

0, confound the rest!

FIRST PLAYER
(dropping character, skipping ahead in his lines)

Very well, then...uh...Oh. (yawns) My spirits grow dull, and fain I would beguile the tedious day with sleep.

SECOND PLAYER

Sleep rock thy brain, and never come mischance between us twain!

FIRST PLAYER mimes sleeping while standing.

HAMLET
(to GERTRUDE)

Madam, how like you this play?

GERTRUDE
(a scratch pad and pencil in hands)

Well, Hamlet...I find it indicative of the decadence of modern theatrical convention. Indeed, it is sparse in its very evocation of a world in which faith itself shares in the communal guilt of a time to be savored in the existential essence that ultimately defines us all. Mr. Castrato's King epitomizes all the conventional folly of monarchical futility, whereas Mr. Falsetto's Queen represents modern woman's ambiguity of resolve in matters which may only be described as suspect. But I thought the shoes were cute.

CLAUDIUS
(totally confused)

Hamlet, are you familiar with this play? Is there no offense in't?

HAMLET

No, no, they do but jest, poison in jest. (mimes ingesting poison) no offense in the world.

CLAUDIUS

What do you call the play?

HAMLET

"The Mousetrap".

CLAUDIUS

And which player is the cheese?

The THIRD PLAYER enters, torn T-shirt and all, a Marlon Brando version of Stanley Kowalski, no less, in a method acting tour-de- force.

HAMLET

That would be Lucianus, Duke of Lindburger, nephew to the King.

THIRD PLAYER

Thoughts black, hands apt, drugs fit, and the time agreeing. Confederate season, else no creature seeing. Thou mixture rank, of midnight weeds collected, with Hecate's ban twice blasted, thrice infected. Thy natural magic and dire property on wholesome life usurps immediately.

THIRD PLAYER takes a small "Coke" bottle from his hip pocket and "pours" the contents into the ear of the sleeping "King".

HAMLET

He poisons him in the garden for his estate. His name is Gonzago. We shall see anon how the murderer gets the love of Gonzago's wife. (beat) The murderer gets the love of Gonzago s wife, Uncle!

CLAUDIUS

Yes. Yes. Hamlet, stop interrupting the play.

HAMLET

My lord, doesn't the plot seem just a little familiar?

CLAUDIUS

Familiar?

HAMLET

You know, "poisons him in the garden for his estate. The murderer gets the love of Gonzago's wife."

CLAUDIUS

Gertrude, do we know anyone named Gonzago?

GERTRUDE

I think not, dear.

CLAULIUS

Sorry, son.

HAMLET

Nephew!

CLAUDIUS

Step son. And I'm afraid your "Gonzago" just doesn't ring a bell.

HAMLET

What if he were called "Hamlet Senior"?

CLAUDIUS

Whatever for?

HAMLET

Just for the sake of argument. And what if Lucianus were "Claudius", eh?

The PLAYERS, sensing the play is over, slink away, exiting to one side or the other of the stage.

CLAUDIUS

I'm afraid I don't quite follow you, Hamlet.

HAMLET

Oh come now. You couldn't possibly be that dense.

CLAUDIUS

See here, Hamlet, we came to see a play and--

HAMLET

I'm certain I saw you flinch a bit at Lucianus, uncle.

CLAUDIUS

Flinch? Me?

HAMLET

You did. You flinched and you blinked.

CLAUDIUS

Can't help blinking. No one can. It's involuntary.

HAMLET
(poking at the king's eyes)

There, You did it again! I saw you flinch!

CLAUDIUS

Did not.

HAMLET

Did too!

CLAUDIUS

Did not!

HAMLET

Did too! Did too! Did too! Now admit it!

CLAUDIUS

I will not. (rising from his throne) This is absurd. Hamlet, you've completely ruined the play for all of us.

CLAUDIUS holds out his hand and GERTRUDE also stands, taking his hand.

HAMLET

What, frighted with false fire?

CLAUDIUS

You're a looney. Come, Gertrude.

CLAUDIUS and GERTRUDE exit, followed by OPHELIA and POLONIUS, with ROSENCRANTZ and GUILDENSTERN carrying the thrones and playing an exit fanfare. HORATIO enters.

HAMLET

You saw it. He blinked. Didn't he, Horatio?

HORATIO
(humoring his prince)

If you say so, my lord.

HAMLET

I do say so, old friend. Leave me now. I've taken to talking to myself as of late and if you were here...well, it would be dialogue and not a soliloquy.

HORATIO
(beginning to doubt HAMLET's sanity)

I understand, my lord.

HAMLET
(as lights dim)

'Tis now the very witching time of night, when churchyards yawn, and Hell itself breathes out contagion to this world. Now could I drink hot blood!

GOOD HUMOUR MAN enters with his tray of bottles.

GOOD HUMOUR MAN

Here you are, governor!

HAMLET
(correcting)

"Prince." How much?

GOOD HUMOUR MAN

Six "p", my lord.

HAMLET
(taking a small pouch from his clothes, gives coins)

There. (takes bottle) Thank you. (drinks) Ahhh...Refreshing...Well now to my mother...(exiting after the vendor) I say, is this organic?

END OF ACT I
---
Act II, scene i. Elsinore Castle, the Royal Court. CLAUDIUS enters downstage followed by ROSENCRANTZ and GUILDENSTERN.

CLAUDIUS

I like him not, nor stands it safe with us to let his madness range. Me thinks he suspects something——not that there is anything to suspect, you understand--but Hamlet is becoming very dangerous. I shall send the two of you to escort him to England.

ROSENCRANTZ

To England? Where giraffes and elephants come from?

GUILDENSTERN

That's Wales.

ROSENCRANTZ

To England where giraffes and whales come from?

POLONTUS enters far upstage.

CLAUDIUS
(still to ROSENCRANTZ and GUILDENSTERN)

Yes. Yes. Haste you now.

GUILDENSTERN

Yes, Sire. (to ROSENCRANTZ) We're going to England! I've always wanted to see the pyramids.

ROSENCRANTZ and GUILDENSTERN exit joyously downstage. CLAUDIUS sees POLONIUS step down towards him.

POLONIUS

My lord, he's going to his mother's closet.

CLAUDIUS

To her closet?

POLONIUS

Behind the arras I'll convey myself.

CLAUDIUS

Arras?

POLONIUS

Curtains, tapestry, my lord. I'll hide behind them.

CLAUDIUS

Curtains. Quite.

POLONIUS

I'll call upon you ere you go to bed. And tell you what I know.

CLAUDIUS

Yes. I see.

POLONIUS

That exchange was quick enough.

CLAUDIUS

But singularly lacking in punchlines, don't you think?

POLONIUS

Perhaps, Sire.

POLONIUS bows and exits.

CLAUDIUS

Right...So I'm alone then, am I? Why do It feel the urge to talk aloud to myself. Most curious. There was something in that play...I think Hamlet was trying to tell me something...0, my offense is rank; it smells to Heaven. (sniffs his clothes) It must be this doublet. I could use a fresh change of clothes. I'll pray a minute and then go bathies.

As CLAUDIUS kneels, bowing his head to pray, the lights dim and we see the silhouette of a cross against the floor while reverent organ music plays. HAMLET enters from high upstage, takes out his sword, steps down a level or two, and soliloquizes.

HAMLET

Now might I do it. Now while he's a—praying. Now I'll do it. And so he goes to Heaven, and so am I revenged!...That's right, I'll do it now...This is my chance to off the bastard...If I hesitate I m lost....This really is a bit of luck finding him here like this....I ll just jab him a little in the back. (mimes jabbing) Or in the back of the neck. (mimes jabbing) Yes, I'm going to do it! I m really going to do it!...Let me savor this moment. ("savors" to himself) Good. That's enough savoring. Now I'11 do it...All right. I'11 just raise my sword. (raises sword overhead) And I'll just...Maybe if I took a running start from back here...(Takes a few steps back.) Now I'11—-(CLAUDIUS stands, crossing himself.) Bugger! I almost had him. He's too fast for me tonight.

CLAUDIUS turns around to see HAMLET. HAMLET hides the sword behind his back.

CLAUDIUS

Oh Hamlet, I didn't see you there.

HAMLET

Yes. Well...I thought I'd just pray a bit.

CLAUDIUS
(suspiciously)

I'm off to my bath. Cheerio.

CLAUDIUS exits upstage.

HAMLET

It's about time. His offense is rank. It stinks to high Heaven...I ll get him next time. When he is drunk asleep, or in his rage, or about some act that has no relish of salvation in it. I'll do it. I really will! (Smells his clothes.) I could use a bit of a scrub myself. I do hope he doesn't use all the bubble bath.

HAMLET exits downstage.

Act II, scene ii. Elsinore Castle, GERTRUDE's apartments. The tapestry, curtains, arras, what you will, is drawn across the upstage platform. GERTRUDE and POLONIUS enter from downstage.

POLONIUS

He will come straight. Look you, lay home to him. Tell him his pranks have been too broad to bear with, and that Your Grace hath screened and stood between much heat and him. I'll silence me even here. Pray you be round with him.

HAMLET
(offstage)

Mother, mother, mother!

GERTRUDE

I'll be square with him.

POLONIUS

I believe that s "round", madam.

GERTRUDE

Whatever. Withdraw; I hear him coming.

POLONIUS hides behind the arras. HAMLET enters downstage.

HAMLET

Mother, what is it?

GERTRUDE

Hamlet, thou has thy father much offended.

HAMLET

Mother, you have my father much offended.

GERTRUDE

Come, come, you answer with an idle tongue.

HAMLET

Go, go, you question with a wicked tongue.

GERTRUDE

Why, how now, Hamlet?

HAMLET

Why, how now, brown cow?

GERTRUDE

What?

HAMLET

The quick brown fox jumped over the lazy dog, mother.

GERTRUDE

Hamlet, I don't know what to say.

HAMLET

Ah ha! Mince phrases with me, will you? I'll set up a mirror where you may see the inmost part of you.

GERTRUDE
(suddenly vain)

Mirror? Where?

HAMLET

I was speaking metaphorically, mother.

GERTRUDE

I see. But what is that wild gleam in your eye?

HAMLET

Wild gleam? Where? (Draws sword, uses it as a mirror.) Where's that blasted mirror?

GERTRUDE

What wilt thou do? Thou wilt not murder me? Help ho!

POLONIUS

(behind the arras) What, ho! Help!

HAMLET

That's not Ho. Me thinks it's my rat of an uncle. Dead for a ducat, dead! (Jabs arras with his sword.)

POLONTUS
(behind the arras)

0, I am slain!

GERTRUDE

O me, what hast thou done?

HAMLET

You heard him. He's slain. I've offed the king.

GERTRUDE

0, what a rash and bloody deed is this!

HAMLET

A bloody deed--almost as bad, good mother, as kill a king and marry with his brother.

GERTRUDE

As kill a king?

HAMLET

Ay, lady, it was my word. (Lifts arras and sees POLONIUS.) Oops.

GERTRUDE

Oops? Is that all you have to say for yourself? You kill a trusted old friend and counselor and get blood stains all over my nice new arras, and all you can think of is "oops"?

HAMLET

This is really quite embarrassing. I thought he was the king.

GERTRUDE

And I suppose that makes it alright? Hamlet, honestly, sometimes you just don't think, do you?

HAMLET

It was a bit rash then, was it?

GERTRUDE

I'll say.

HAMLET

Well, he had it coming, always sneaking about and hiding in people's bedrooms. And my uncle, he really has it coming.

GERTRUDE

And me? Do I have it coming, Hamlet?

HAMLET

Mother, did you have to marry my uncle and so soon after father died?

GERTRUDE

Well, he was just no fun anymore.

HAMLET

I dare say.

GERTRUDE

No, silly, before he died. He was no fun before he died.

HAMLET

And did you help to mur—-(GHOST enters.)

GERTRUDE

Mur? What's "mur"?

HAMLET
(to the GHOST)

Save me and hover o'er me with your wings, you heavenly guards! What would your gracious figure?

GERTRUDE

Alas, he's mad. He's balmy as a jaybird.

GHOST

Do not forget, Hamlet. This visitation is but to whet thy almost blunted purpose. But look, amazement on thy mother sits. Speak to her, Hamlet.

HAMLET

Right. How are you, mummy?

GERTRUDE

How are you, Hamlet? You've been talking to yourself much too much of late. I'm beginning to worry.

HAMLET

But don't you see him, mummy? (GHOST exits.) There he goes. There.

GERTRUDE

Who are you talking about?

HAMLET

Dad, of course, mummy. Look where he goes even now out at the portal!

GERTRUDE

Are you daft?

HAMLET

Daft? I'm as sane as you are. Bring me to the test. I'll show you.

GERTRUDE

Alright then. (Takes ink blot cards from her bossom.) What does this look like?

HAMLET

A camel.

GERTRUDE
(flashing the next card)

And this?

HAMLET

A weasel. No, it's a whale. Mother, old Polonius already administered this test--with the clouds.

GERTRUDE

Really? I don't recall...

HAMLET

That's right, we cut that scene. It was too long.

GERTRUDE

Unlike this one?

HAMLET

Right. I see what you mean. All right then, I'll get right to the point. (quickly) Confess yourself to heaven, repent what's past, avoid what is to come, and do not spread the compost on the weeds to make them ranker. Forgive me this my virtue. For in the fatness of these pursy times virtue itself of vice must pardon beg, yea, curb and woo for leave to do him good.

GERTRUDE

0 Hamlet, thou has cleft my heart in twain.

HAMLET

I have? I really should be more careful with this sword. Are you in pain?

GERTRUDE

I'm speaking metaphorically, of course.

HAMLET

Of course. And well done too, mother. Right. Well, good night--but go not to my uncle's bed. Assume a virtue if you have it not.

GERTRUDE

You are daft!

HAMLET

Now I must go, mother...And don t tell anyone about all this. It really is quite embarrassing, you know.

GERTRUDE

I won't tell a soul. Really I won't.

HAMLET

I must go to England; you know that.

GERTRUDE

Yes, I had forgotten what with all this

HAMLET

All what business, mother?

GERTRUDE

None, Hamlet. None at all.

HAMLET

That s better. I ll just lug these guts into the neighbor room.

HAMLET begins to drag POLONIUS away.

GERTRUDE

Whose guts, Hamlet?

HAMLET
(laughing)

Right. Whose guts indeed. I see no guts. Good night, mother.

HAMLET exits dragging POLONIUS.

GERTRUDE

Good night. Hamlet.

CLAUDIUS
(entering from upstage)

What, Gertrude? How does Hamlet?

GERTRUDE

Promise you won't get angry?

CLAUDIUS

What is it then?

GERTRUDE

Claudius, the fact is...It's so difficult to put this gracefully. Hamlet, our son, sort of...killed Polonius.

CLAUDIUS

Killed Polonius?

GERTRUDE

Now remember he is our son and it was a kind of accident.

CLAUDIUS

He's your son. He's just my nephew.

GERTRUDE

And step son.

CLAUDIUS

All right, step son.

GERTRUDE

He didn t really mean to kill him. He thought Polonius was you--I mean...

CLAUDIUS

So that's it!

GERTRUDE

Oh dear. You won't do anything hasty, will you?

CLAUDIUS

Hasty!...Hasty?...Of course not. We'll simply send him away at once--for his health.

GERTRUDE

Oh Claudius. You are so wise and kind.

CLAUDIUS

Yes. Yes...Ho Rosencrantz! Guildenstern!

ROSENCRANTZ and GUILDENSTERN enter.

ROSENCRANTZ

I'm sorry, my lord. Ho couldn't make it, but we're here.

CLAUDIUS

Good enough. Bring Prince Hamlet before me.

ROSENCRANTZ

Yes, Sire.

GUILDENSTERN

At once, my lord.

ROSENCRANTZ and GUILDENSTERN exit.

ROSENCRANTZ
(offstage)

My lord, Hamlet, would you accompany us please?!

HAMLET

(offstage) What's the meaning of all this?

GUILDENSTERN
(offstage)

His Majesty wishes to see you at once, my lord.

ROSENCRANTZ
(offstage) Come along, sir.

HAMLET is brought in by ROSENCRANTZ and GUILDENSTERN.

CLAUDIUS

Well, young Hamlet, what do you have to say for yourself?

HAMLET

It's a fair cop; I done it alright.

CLAUDIUS

Now, Hamlet, where s Polonius?

HAMLET

At supper.

CLAUDIUS

At supper? Where?

HAMLET

Not where he eats, but where he is eaten. A certain convocation of politic worms are eatin' at him.

CLAUDIUS

Hamlet, your bloody metaphors are beginning to become a bit disgusting. Don't you think?

HAMLET

Right. Sorry. I do get carried away with them.

CLAUDIUS

Hamlet, I'm sending you to England right away until all this blows over.

HAMLET

I've always wanted to see England. Thank you, Sire. Perhaps I'll get the chance to ride a camel.

CLAUDIUS
(to ROSENCRANTZ and GUILBENSTERN)

Go with him, lads, and be sure to write.

ROSENCRANTZ

Yes, sire.

GUILDENSTERN

Shall we go, lord Hamlet?

HAMLET

Let's. Could I sit by the window on the boat?

ROSENCRANTZ and GUILDENSTERN

Over our dead bodies.

HAMLET, ROSENCRANTZ and GUTLIJENSTERN exit.

GERTRUDE

Oh dear. I hope he gets off before Laertes hears about all this.

CLAUDIUS

Laertes...Yes, I had quite forgotten about him. He could make a nasty scene about this affair. Might even blame me...Leave me now, Gertrude. I must--

GERTRUDE

I know, talk to yourself. Claudius, I do hope you're not coming down with whatever Hamlet has.

GERTRUDE exits. CLAUDIUS scribbles something on a piece of paper, reads.

CLAUDIUS

And England, if my love thou hold'st at aught--as my great power thereof may give thee sense--slay Hamlet...Do it England! For like the hectic in my blood he rages, and thou must cure me. Do it! Let a camel run him over. I don't care how you do it, but do it!

GERTRUDE
(entering briefly)

Finished soliloquizing, dear?

CLAUDIUS

Yes. Quite. Coming Gertrude.

CLAUDIUS exits after GERTRUDE.

Act II, scene ii. Elsinore Castle, the Royal Court. GERTRUDE is sitting on her throne on the top platform. HORATIO enters from downstage and bows, then stands straight.

HORATIO

The lady Ophelia, your majesty.

GERTRUDE

I will not speak with her.

HORATIO

She is importunate, indeed distract. Her mood will needs be pitied. 'Twere good she were spoken with, for she may strew dangerous conjectures in ill -breeding minds.

GERTRUDE
(reluctantly)

Let her come in.

HORATIO exits downstage after bowing. OPHELIA enters. She seems to be wearing the same white slip seen earlier on the PLAYER QUEEN. OPHELIA has weeds and flowers in her hair and in her hands. She strews the stage with these plants. She is not well.

OPHELIA

Hello Hello Hello. Where is the beautious majesty of Denmark?

GERTRUDE

(concerned for OPHELIA's sanity) How now, Ophelia?

OPHELIA

How now, brown cow? I shall sing now. (sings)

Oh, I'm as corny as Kansas in August,
High as the flag on the Fourth of July,
And if you'll excuse an expression I use,
I'm in love with a wonderful guy!

GERTRUDE

You mean Hamlet? Alas, sweet lady, what imports this song?

OPHELIA

Sorry, wrong song...(sings)

He is dead and gone, lady.
He is dead and gone.
At his head a grass—green turf,
At his heels a stone."

GERTRUDE

How did the other one go?

OPHELIA
(singing)

I'm as corny as--

GERTRUDE
(singing)

Kansas in August..."

OPHELIA and GERTRUDE
(singing)

High as the flag on the Fourth of July.
And if you'll excuse an expression I use,
I'm in love, I'm in love, I'm in love, I'm in love.
I'm in love with a wonderful guy!

CLAUDIUS
(entering from upstage)

What's all this then?

GERTRUDE

Merely singing show tunes, milord.

CLAUDIUS

Oh Gertrude, Gertrude. When sorrows come, they come not single spies, but in battalions. First her father slain, next your son gone, and now Rogers and Hammerstein!

There is a noise offstage. OPHELIA hides behind CLAUDIUS.

GERTRUDE

Alack, what noise is this?

LAERTES enters downstage, his sword drawn. OPHELIA, behind CLAUDIUS, thrusts her arms underneath those of the king. CLAUDIUS, seeing he has too many arms, folds his behind his back.

LAERTES
(angrily)

Where is this king?

CLAUDIUS

Laertes, what a pleasant surprise!

LAERTES
(beginning to ascend the levels, his sword pointed at the king)

0 vile king, give me my father.

GERTRUDE

Calmly, good Laertes.

LAERTES

Where is my father?

CLAUDIUS

Sort of...dead.

GERTRUDE

But not by him.

LAERTES

Who then?

CLAUDIUS

It was Ham——(GERTRUDE's hand covers CLAUDIUS' mouth.)

GERTRUDE

That's right, Laertes. It was ham. He choked on a ham sandwich.

LAERTES

A ham sandwich?

OPHELIA, still behind CLAUDIUS, sneezes.

LAERTES

How now. What noise is that?

OPHELIA
(stepping from behind CLAUDIUS)

How now, brown cow?

She tries to decorate LAERTES with flowers.

LAERTES

Oh heat, dry up my brains! 0 heavens, is it possible a young maid's wits should be as mortal as an old man's——(OPHELIA stuffs a rose stem in his mouth. His speech is muffled.)——life. (OPHELTA pulls the stem from his mouth in a hard yank. He has a delayed reaction) All this from--Ow! And all this from an errant ham sandwich? Oh fie on that foul comestible!

OPHELIA
(tickling LAERTES face with the blossom of the rose)

It was Lord Hamlet did our father in, dear brother.

LAERTES


(enraged) Lord Hamlet?!

GERTRUDE

It was an accident.

LAERTES

An accident! How?

CLAUDIUS

He stabbed your father in the arras!

LAERTES

Bloody pervert!

GERTRUDE

Thought he was a rat, you know.

LAERTES

A rat?

GERTRUDE

Well, he did say "Oops".

LAERTES

Oops?" "Oops?" "Oops", is it? I'll give him bloody "oops"! Where is he?

CLAUDIUS

Away in England. I sent him there.

LAERTES

Well, I'm sorry, but that's not punishment enough!

OPHELIA
(sings)

And will he not come again?
And will he not come again?
No, no he is dead--"

CLAUDIUS, GERTRUDE and LAERTES

Would you shut up?

CLAUDIUS

My dear Gertrude, would you take poor Ophelia to her rooms. I shall comfort good Laertes even here.

GERTRUDE
(rising)

Yes, good milord. Come, Ophelia, we'll sing elsewhere.

GERTRUDE and OPHELIA
(singing as they exit upstage, arm—in—arm)

I'm as corny as Kansas in August,
High as the flag on the Fourth of July,
And if you ll excuse an expression I use,
I'm in love, I'm in love, I'm in love, I'm in love.
I m in love with a wonderful guy!

LAERTES

This is most monstrous!

CLAUDIUS

Really? I thought they were quite good.

LAERTES

Not them, Sire. I mean, my father's death. And I can do nothing.

HORATIC interrupts with messages.

CLAUDIUS

What is it. Horatio?

HORATIO

Letters, my lord, from Hamlet. This to your majesty and this to the queen.

He holds out his hand for a tip.

CLAUDIUS

Shall I have that hand cut off for you?

HORATIO

Er...No, Sire.

CLAUDIUS

Go then.

HORATIO

Yes, Sire.

HORATIO bows and exits.

CLAUDIUS
(reading his letter)

Bloody bastard!

LAERTES

A tip is customary, Your Majesty.

CLAUDIUS

It's bloody Hamlet. He's escaped. I sent him with a note for the King of England to have him snuffed. So Hamlet reads it and offs my messengers Rosen...whatever and...You know, the two Jewish chaps. And now he's coming back to Elsinore.

LAERTES

Bloody bastard!

CLAUDIUS

Laertes, was your father dear to you?

LAERTES

Was he dear to me? Was he dear to me? My father?! What a bloody stupid--

CLAUDIUS

Just checking...When Hamlet returns from England, what would you undertake to show yourself your father's son in deed more than in words?

LAERTES

To cut his throat in the church!

CLAUDIUS

Good lad! Just suppose I could arrange a fencing match with you and Hamlet.

LAERTES

What of it, Sire?

CLAUDIUS

Suppose I gave Hamlet a dull rapier and I gave you a nice pointy one.

LAERTES

Good show, milord. And I could annoint my rapier with a bit of poison.

CLAUDIUS

Good lad! And I could give Hamlet a goblet of poison wine when he's thirsty.

LAERTES

Marvelous!

CLAUDIUS

But hark, someone approaches.

GERTRUDE
(entering from upstage)

One woe doth tread upon another's heel. So fast they follow...Your sister's drowned, Laertes.

CLAUDIUS

Oops.

LAERTES

Drowned? Where?

GERTRUDE

There is a willow grows 'slant a brook that shows his hoar leaves in the glassy stream. There with fantastic garlands did she--

CLAUDIUS

Yes, yes, my dear. We get your drift.

GERTRUDE

But there's more.

CLAUDIUS

We ll hear it later.

GERTRUDE

It's my only bleeding monologue.

LAERTES

Alas, then she is drowned?

GERTRUDE
(as if reading the words)

Drowned. Drowned.

LAERTES
(melodramatically)

Too much of water hast thou, poor Ophelia, and therefore I forbid my tears--

GERTRUDE

He gets his bloody monologue. It's not fair, milord.

LAERTES

Adieu, my lord. I have a speech of fire!

LAERTES exits with a flourish of his sword.

GERTRUDE

Oh "speech of fire", that's nice. But what do I get? Nothing, that's what.

CLAUDIUS

Let's follow, Gertrude. How much I had to do to calm his rage. Now fear I this will give it start again. Therefore, let's follow.

GERTRUDE

Bloody men get all the good lines.

GERTRUDE and CLAUDIUS exit after LAERTES. We then hear GERTRUDE offstage.

GERTRUDE

Don't you touch me!

Act II, scene iii. A trap door is open at the uppermost platform to represent a grave. A few headstones surround the hole. Inside the grave a circus CLOWN is digging, piling dirt on the surface level. The CLOWN sings.

CLOWN
(singing)

Oh, I'm as corny as Kansas in August,
High as the flag on the Fourth of July...

HAMLET and HORATIO enter from upstage.

HAMLET
(to CLOWN)

I say, whose grave is this, sirrah?

CLOWN

My name isn't Sarah, milord.

HAMLET

Of course it isn't.

CLOWN

It's 'ortense.

HAMLET

I see...

CLOWN

Named after me father.

HAMLET

Anyway, whose grave is it?

CLOWN

Mine, sir.

HAMLET
(aside to HORATIO)

Now for some witty banter. (to CLOWN) I think it be thine indeed, thou liest in't.

CLOWN

You lie out on't, sir, and therefore 'tis not yours. For my part, I do not lie in't, yet it is mine.

HAMLET

Listen to this, Horatio. (to CLOWN) Thou dost lie in't, to be in't and say it is thine. 'Tis for the dead, not for the quick, therefore, thou liest.

CLOWN

'Tis a quick lie, sir.

HAMLET

Quick lye"; get it, Horatio?

HORATIO
(first laughing, then confused)

No I don't...

HAMLET
(to CLOWN)

What man dost thou dig it for?

CLOWN

For no man, sir.

HAMLET

What woman, then?

CLOWN

For none neither.

HAMLET

Who is to be buried in't?

CLOWN

One that was a woman, sir; but, rest her soul, she's dead.

HAMLET

I'll get him this time, Horatio. (to CLOWN) Tell me, knave, how do you steam a clam?

CLOWN

A clam, sir? That I know not.

HAMLET
(to HORATIO)

I've got him where I want him. (to CLOWN) Why, make fun of his religion, that's how! (laughs)

HORATIO

Good one, milord!

HAMLET
(to CLOWN)

Match wits with me, will you? Prithee, what have you there?

CLOWN

A skull, sir, that hath lain in the earth three and twenty years.

HAMLET

Whose was it?

CLOWN
(holding out the skull)

Whose do you think it was?

HAMLET

Nay, I know not.

CLOWN

Oh guess...

HORATIO

Good milord, shouldn't we be getting along with the plot. It's rather late now.

CLOWN

All right then; it's Yorick's skull, the king's jester.

HAMLET

Let me see. (Takes the skull.)

HORATIO

We ll never finish this play.

CLOWN

Let him have his little speech, sir. What s the 'arm?

HAMLET

Alas, poor Yorick! I knew him, Horatio, a fellow of infinite jest, of most excellent fancy. He hath borne me on his back a thousand times... Here hung those lips that I have kissed I know not how oft... (kisses skull) Horatio?

HORATIO

Aye, milord?

HAMLET

I think I'm going to be quite ill. (Gives skull to CLOWN.)

CLAUDIUS, GERTRUDE and LAERTES enter from downstage in solemn procession behind two familiar courtiers who carry OPHELIA s body, a white bundle tangled with river plants and dripping wet. The CLOWN climbs out of the grave and exits.

HAMLET

But soft awhile. Here comes the king, the queen, the courtiers.

HORATIO

Oh my!

HAMLET

Who is this they carry?

HORATIO

I fear it is the soggy corpse of the Lady Ophelia, milord.

HAMLET

Ophelia's snuffed it?

HORATIO

I fear so, my prince.

HAMLET

Couch we awhile, and mark.

HORATIO

Come again, milord?

HAMLET

Let's hide and listen, Horatio.

HORATIO

Oh.

HAMLET and HORATIO hide on the edge of the set as the funeral procession reaches the grave site. The courtiers lower OPHELIA into the grave.

GERTRUDE

Sweets to the sweet. Farewell. (scatters flowers over the coffin)

LAERTES

0, treble woe fall ten times treble on that cursed head whose wicked ingenious sense deprived thee of! Hold off the earth have caught her once mare in mine arms. (leaps in the grave, making a big sloshing sound) Sorry. (then over—dramatically) Now pile your dust upon the glick and dead till of this flat mountain you have made to o'ertop old Pelion or the skyish head of blue Olympus.

HAMLET

What the devil is he talking about?

HORATIO

Bugger if I know, milord.

HAMLET

So he thinks he can beat me at overacting, does he? (shouts) This is I, Hamlet the Dane!

A dog barks offstage.

ALL

Shut up!

HAMLET leaps into the grave, also making a big sloshing sound.

HAMLET
(to OPHELIA)

Sorry.

LAERTES

Devil take thy soul!

LAERTES and HAMLET grapple in the grave.

GERTRUDE

Hamlet! Hamlet!

LAERTES

Stop treading on my sister!

HAMLET

Well, there's not much room in here, is there?

GERTRUDE
(boldly upstaging everyone)

This is mere madness; and thus a while the fit will work on him. Anon, as patient as the female dove when that her go1den couplets are disclosed, his silence will sit drooping.

CLAUDIUS

What the devil is she talking about?

GERTRUDE

You see? I can be as verbose and obscure as anybody.

HAMLET
(climbing from grave)

Let Hercules himself do what he may, the cat will mew, and dog will have his day. (to GERTRUDE) So can I, Mother. So can I!

HAMLET exits followed by HORATIO.

CLAUDIUS

Good Gertrude, set some watch over your son.

LAERTES

Beg pardon, could someone give me a bit of a lift?

CLAUDIUS grasps LAERTES hand to pull him from the grave and whispers to him.

CLAUDIUS

Are you up to doing in Hamlet?

LAERTES
(almost leaping out)

Where is he? I'll--

CLAUDIUS
(whispering)

Not in front of the Queen. (then loudly) let's get on with it, then! Gravedigger!

Everyone exits except CIAUDTUS and LAERTES. The CLOWN re-enters at CIAUDIUS' bidding and shovels some dirt into the grave.

LAERTES

You're getting her all dirty. (aside as he exits) Bloody cheap king. Can't afford a bleeding casket.

CLAUDIUS
(to CLOWN)

Go on, then. Plant her before dark.

There is a sudden blackout. In the dark we hear CLAUDIUS complaining to the CLOWN.

CLAUDIUS

In the grave, not my bloody shoes!

CLOWN

Sorry.

CLAUDIUS and ClOWN exit in the dark.

Act II, Scene iv. Elsinore Castle, the Royal Court. HAMLET and HORATIO enter.

HORATIO

To show there are no hard feelings between yourself and yoimg Laertes, milord, the king wishes you to fence a friendly bout before the entire court. But I fear he will best you woefully with his champion skill at swordplay.

HAMLET

I do not think so. Since Laertes went into France I have been in continual practice.

On the word "practice" HAMLET pulls his sword from its scabbord, but in one continous motion slings it into the wings of the stage.

HORATIO
(concerned with this clumsiness)

If your mind dislikes anything, obey it. I will forestall their repair hither and say you are not fit.

HAMLET, waxing philosophical and noble, steps downstage for a brief speech.

HAMLET

Not a whit, we defy augury. There is a special providence in the fall of a sparrow. If it be now, 'tis not to come; if it be not to come, it will be now, if it be not now, yet it will come. The readiness is all. Since no man of aught he leaves knows, what is't to leave betimes? Let be.

HORATIO applauds.

HORATIO

A beautiful speech, my lord...What the Hell does it mean?

HAMLET
(thoughtfully)

I haven't the foggiest.

A table with foils is brought in by the two courtiers, "E" and "S", who then bow and exit. CLAUDIUS, GERTRUDE and LAERTES enter. GERTRUDE sits on her throne.

CLAUDIUS
(standing HANLET and LAERTES)

Come, Hamlet, take his hand.

HAMLET
(turning away, arms crossed)

I will not.

GERTRUDE

Please, Hamlet...

HAMLET
(reluctantly enough)

Oh all right. (grasps IAERTES hand) I am sorry, Laertes. I was so frightfully rude at your sister's funeral.

LAERTES
(through clinched teeth)

Not a bit, old chap. I quite understand.

The handshake continues and evolves into an arm wrestling match, each man tryiing to put the other off balance.

HAMLET

And I really must apologize for driving poor Ophelia to madness.

LAERTES
(gritting his teeth)

I'm sure you did not mean to do so, milord.

The pushing intensifies.

HAMLET

And mistaking your father for a rat, how embarrassing! Still, I don't think he suffered long. Of course, he would have died in ten years or so anyway.

LAERTES increases the pressure.

LAERTES
(suddenly releasing)

Quite possibly, milord.

HAMLET falls on his posterior.

CLAUDIUS

Are you quite ready, Laertes?

LAERTES growls affirmatively.

LAERTES

Let us choose foils, my Lord Hamlet. (claps twice)

"E" steps forward with an armful of foils. LAERTES pretends to try a few and settles on a certain one whose tip he eyes keenly and then seems to chalk it like a pool cue with a small bag he acquires from the folds of his clothing. HAMLET motions to "E" and takes the entire bundle.

HAMLET
(swinging the bundle like so many baseball bats)

These foils have all a length? (slings one into the wings, a man screams) Sorry. (gives all but one to a frightened "E") This likes me well.

HAMLET swipes the foil about and "E" ducks.

CLAUDIUS

Set me the stoups of wine upon the table. ("S" exits) If Hamlet give the first or second hit, ("S" returns with a goblet and a pitcher on a tea trolley.) or quit in answer of the third exchange, let all the battlements their ordinance fire, the King shall drink to Hamlet's better breath, and in the cup an union shall he throw, (picks up goblet) richer than that (raises goblet) which four successive kings in Denmark's crown have worn. (as though toasting) And let the kettle to the trumpet speak, the trumpet to the cannoneer without, then cannons to the heavens, the heavens to earth--

HAMLET
(impatient)

Are you finished?

CLAUDIUS
(to "E" and "S")

Come begin. And you judges, bear a wary eye. (sets down goblet)

HAMLET
(en guard)

Come on, sir.

LAERTES

Come, my lord.

They fence and HAMLET touches LAERTES in the rear with his foil.

HAMLET

Touche.

LAERTES

No...

HAMLET

Judgement? (to "E") What say you, good Extraneous?

EXTRANEOUS

Oh...A hit, a very palpable hit.

LAERTES
(on his guard)

Well, again.

CLAUDIUS
(to "S")

Stay! Superfluous, give me drink.

SUPERFLUOUS pours wine into the goblet and serves it to CLAUDIUS.

HAMLET

Bloody sot.

CLAUDIUS
(holding a pearl between finger and thumb)

Hamlet, this pearl is thine (drops pearl in goblet, raises goblet above his head). Here's to thy health. (pretends to drink) Ahhh. Yum. (licks his lips) Give him the cup.

SUPERFLUOUS steps forward to receive the goblet.

HAMLET

I'll play this bout first; set it by awhile. (to LAERTES) Come.

HAMLET and LAERTES fence. CLAUDIUS motions SUPERFLUOUS to take the wine away to the tea cart. SUPERFLUOUS does so. HAMLET touches LAERTES once more in a buttock.

HAMLET

Another hit. What say you?

LAERTES

A touch, a touch; I do confess't.

CLAUDIUS
(to GERTRUDE)

Our son shall win.

HAMLET is en guarde, but relaxes his stance to take his argument to CLAUDIUS.

HAMLET

Her son and your nephew! (starts back toward LAERTES.)

CLAUDIUS

And stepson.

HAMLET

All right. All right. Stepson. En guarde, Laertes!

They fence.

GERTRUDE

He's fat and scant of breath.

HAMLET

This is not the time for that, Mother. (aside) Even she's noticed that my flesh is too too solid.

GERTRUDE
(rises, approaches tea trolley)

Here, Hamlet, take my napkin, rub thy brows. (takes up the goblet to CLAUDIUS horror) The Queen carouses to thy fortune, Hamlet.

CLAUDIUS

Gertrude, do not drink!

GERTRUDE

I will, my lord; I pray you pardon me. (drinks)

CLAUDIUS

Oops.

GERTRUDE gestures, offering the goblet to HAMLET.

HAMLET

Mother, I'm not thirsty yet. I'm fencing now.

GERTRUDE

Come let me wipe thy face.

HAMLET

Mother, would you please just let me fence!

GERTRUDE

Well pardon me for living, I'm sure... (becomes faint) Hamlet!

HAMLET

Mother, don't you think you're being just a wee bit over-dramatic?

LAERTES
(aside to CIAUDIUS)

My lord, I'll hit him now.

CLAUDIUS

Not yet.

HAMLET

Come, Laertes, fence.

They fence. LAERTES wounds HAMLET slightly. HAMLET attacks IAERTES in anger. En a clinch tney drop their swords, scuffle and end up exchanging foils. They fence with a newly manic intensity until HAMLET runs LAERTES through--the groin. They almost freese in this position.

CLAUDIUS

Part them. They are incensed.

HAMLET pulls out the foil with the pop of a champagne cork. HAMLET stands en guarde as IAERTES stands there in pain.

HAMLET

Come, again. (GERTRUDE falls.)

LAERTES

Never again...Look to the queen there, ho!

HAMLET

Oh no. You won't catch me with that old trick, Laertes. Besides, I happen to know Ho is nowhere near the castle tonight.

LAERTES falls to his knees.

LAERTES

As a woodcock to mine own springe, I am justly killed with mine own treachery.

HAMLET

Similes to the end... (sees GERTRUDE hunched on the floor) How does the queen?

CLAUDIUS
(evasively)

How does the queen do what?

HAMLET

I seem to remember that I'm miffed at you about something, Uncle. Now what's she about?

CLAUDIUS

She swoons at the bleeding.

GERTRUDE
(chokingly)

No, no, the drink, the drink! 0 my dear Hamlet!

HAMLET

She's swallowed your bloody pearl! I ought to--

GERTRUDE

The drink, the drink! I am poisoned. (dies)

HAMLET

Poisoned! O villainy! Ho, let the door be locked!

LAERTES

I thought you said Ho was nowhere near the castle tonight.

HAMLET

Enough, Laertes. I'm beginning to lose my temper!

LAERTES

Hamlet, thou art slain; no medicine in the world can do thee good. In thee there is not half an hour's life. The treacherous instrument is in thy hand unbated and envenomed.

HAMLET
(eyeing the tip of his foil)

The point envenomed too?

LAERTES

The king...the king's to blame... (dies)

HAMLET

Oh, that really does it! No more beating around the bush! I'm really quite mad now!

CLAUDIUS
(backing away)

Now Hamlet...Son...

HAMLET

Nephew!...Now poison, do thy work!

HAMLET corners CLAUDIUS with his foil in one hand and, taking the goblet in his other hand, pours wine down CIADDIUS' throat while simultaneously running him through with the sword.

CLAUDIUS

Stepson.

HAMLET

Neph—(CLAUDIUS dies.) Bugger! (raising his foil above his head) This is I, Hamlet the Dane!

A dog barks offstage.

HAMLET

Right. (exits in a huff, then from backstage) And I've had enough of you too, doggy!

VOICE

No, please!

We hear the dog yelp pittifully. HAMLET re—enters. Looking at everyone left alive on stage, he growls and chases them offstage. Then he notices the audience for the first time. He steps toward a member of the audience.

HAMLET

And you! What are you looking at! I ought to...I will!

HAMLET seems to go for the person in the audience. There is a blackout and then a scream.

***THE END***